01.11.2017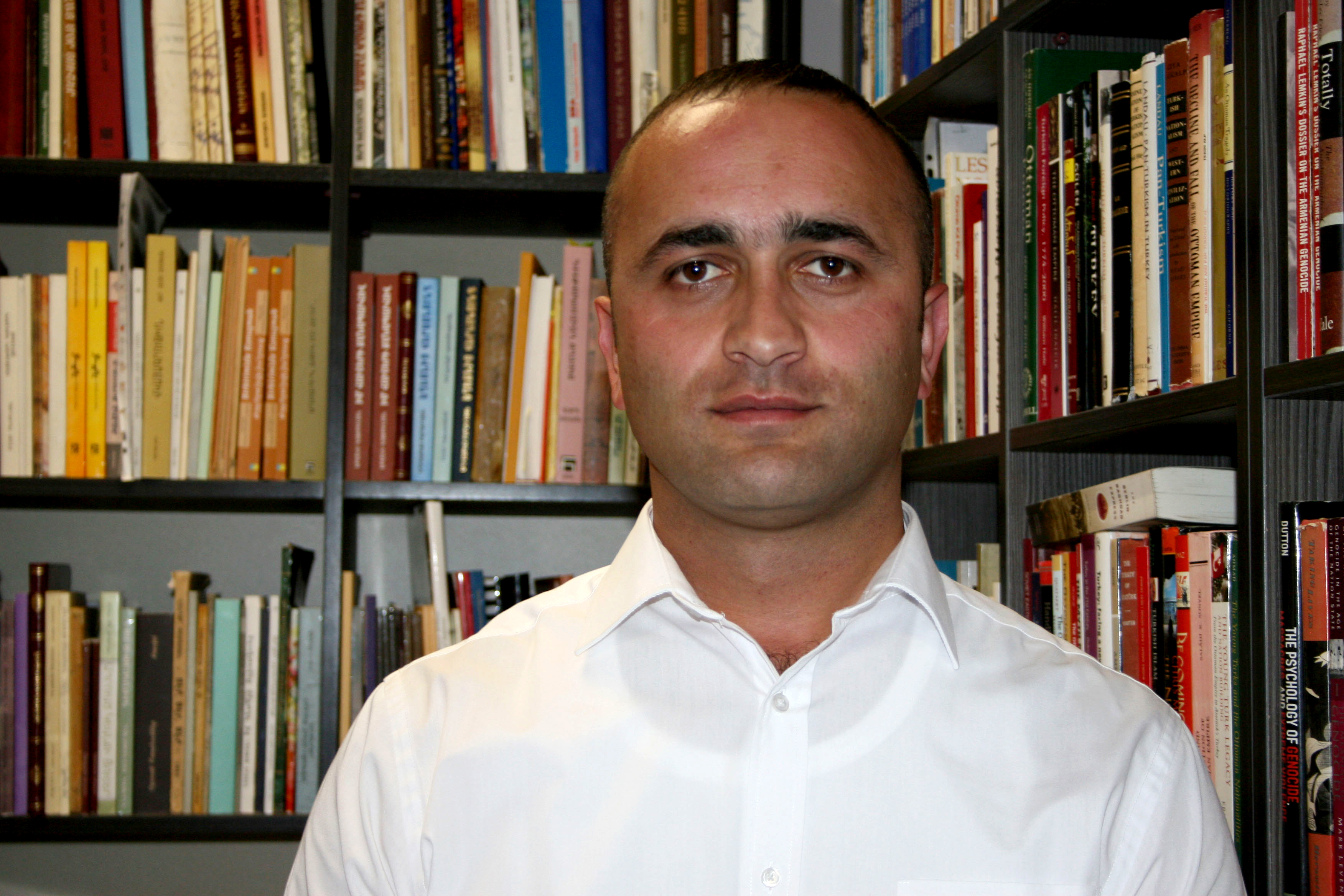 On October 23, by the decision of the Presidency of the National Academy of Sciences of the Armenia of Armenia, AGMI Scientific Secretary PhD Gevorg Vardanyan was appointed acting director of AGMI. AGMI director Dr. Hayk Demoyan is in America as a Fulbright visiting professor at Harvard University.
Gevorg Vardanyan is a Candidate of Historical Sciences and Senior Researcher at AGMI. He is an author of twenty scientific publications and a monograph.
The sphere of his scientific interests are - history of Armenian Genocide, Genocide denial, Comparative genocide studies, History of the Ottoman Greeks, Comparative history of Ottoman and Russian Empires.
Education
From 2017 he is a doctoral fellow at Armenian Genocide Museum-Institute, NAS RA.
He defended his dissertation at the Institute of Oriental Studies of NAS RA in 2011.
During 2008 -2011h was a PhD student at AGMI NAS RA. His dissertation was entitled "Greek population in the Ottoman Empire and the disaster of Asia Minor, 1914-1923."
During 2003-2008 he did his studies at the Department of History and Law, Armenian State Pedagogical University.
Work experience.
From 2014 he was a scientific secretary of the Armenian Genocide Museum – Institute of NAS RA.
During 2012-2014 he headed the Department of Comparative Genocide Studies at the Armenian Genocide Museum – Institute, NAS RA.
During 2010-2012 he was a researcher at the same department.
He is a member of the International Association of Genocide Scholars and is in the editorial board of the
Journal of Genocide Studies.
He was a member of the AGMI's new temporary exhibition team. He participated at different local and international conferences.
Selected publications
Monograph
"Greek population in the Ottoman Empire and the disaster of Asia Minor, 1914-1923", Yerevan, publication of AGMI, 2012.
Articles
"The Armenians among two Empires, 1877 1878 Caucasian Front of Russian-Turkish War in Ottoman War Campaign" Genocide Magazine 4-1 (2016), pg. 11-24.
"The Ottoman Genocide of the Armenians and Greeks: The Similarities and Structural Peculiarities." in Genocide in the Late Ottoman Empire: Armenians, Assyrians and Greeks, 1913-1923, ed. George Shirinian, New York: Berghahn Books, 2017: pp. 274-299.