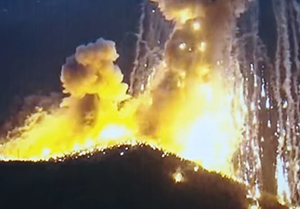 As a consequence of the recent war, the ethnic cleansing of the indigenous Armenian population in and around the Republic of Artsakh, which started over a century ago, has entered a new phase. Not only has the Armenian population of Artsakh and their historic homeland been physically attacked and brutally destroyed through the deployment of terrorists and mercenaries and the use of prohibited weapons, but the indigenous Armenians have been and are continuing to be uprooted and displaced against their will and under threat to their lives and dignity, leaving behind their historical, cultural, religious heritage and way of life.
Already the new occupants of these lands, where Armenians lived for millennia, are obliterating traces of the Armenian presence, distorting historical memory, propagating fake history, and denying the Armenian origin and stewardship of the historical and cultural sites that, as a consequence of Azerbaijani and Turkey's aggression against the peaceful population, have passed out of Armenian control.
Meanwhile, apparent war crimes are being committed against the Armenian POWs and civilians. The policy of hatred and anti-Armenianism has reached a new level.
A separate concern is about the Armenian monuments, churches, khachkars, artifacts, that are now under threat in areas controlled by Azerbaijan. Azerbaijani widespread historical revisionism with an example of erasing the Armenian presence in Nakhichevan in recent decades continues till today as a form of cultural genocide.
The AGMI calls on international community to uphold their obligations under international law and the norms of human decency to prevent and condemn these unlawful actions and to accurately report and record these violations.
As an institution devoted to historical memory and truth, and protection of human rights, AGMI continues to study the situation and to gather facts so that the truth will be known and the perpetrators will be held accountable for their crimes against humanity, war crimes and genocide.
As a plan to tackle these issues, the AGMI has prepared short-term and long-term initiatives, which include:
1. With the approval of concerned authorities to establish a separate department to study the mass violence and genocidal acts against the Armenians in Nakhichevan, other Armenian populated places of Azerbaijan, and Artsakh in XX-XXI centuries;
2. A special issue of the International Journal of Armenian Genocide Studies and Ts'eghaspanagitakan handes will be devoted to the study of the mass violence and genocidal acts in Azerbaijan and Artsakh;
3. International round table discussion/conference will be organized the next year on the Artsakh Issue with the involvement of known scholars;
4. To continue elucidating different aspects of Artsakh Issue and Armenophobia in Azerbaijan and Turkey through our website and social media.