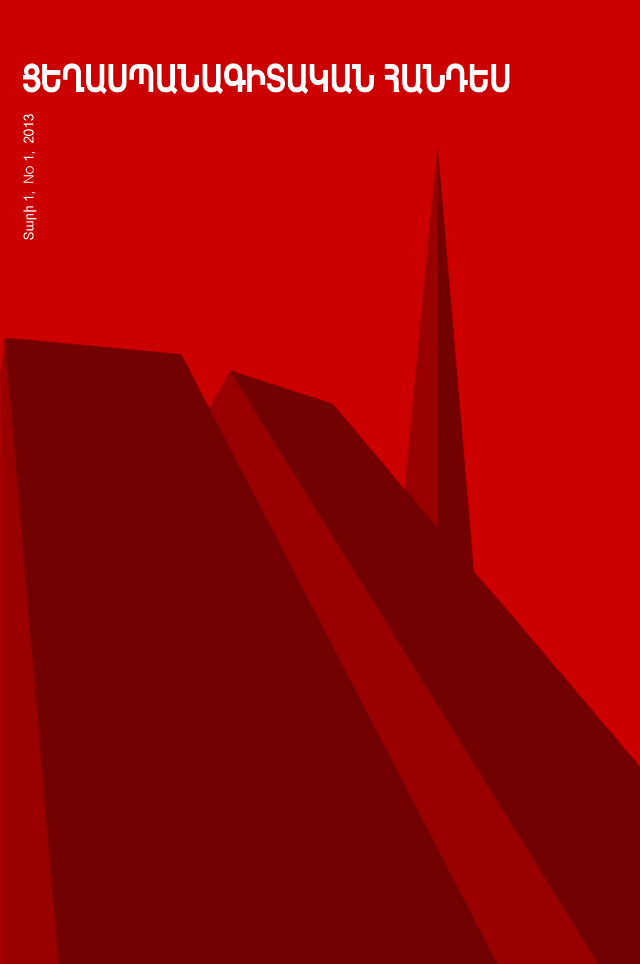 STYLE SHEET
I. Submission Guidelines
• Articles should be presented in word 2007 form. Electronic version can be presented by USB or sent via email to
handes@genocide-museum.am
• The articles must have an effective command structure; preamble, the original text (subtitles are preferred), conclusion, key words, information about authors, English and Russian summary. Articles in foreign languages must have Armenian summary.
• The works should have topic actuality, carefully edited, without hyphens. Previously published articles or presented in any other publications cannot be included in this journal.
• The articles will be edited according to the editorial approaches of "Journal of Genocide Studies", and can be rejected if they do not meet the criteria set by the editorial staff.
II. Language, Spelling and Grammar
• Numbers from one to ten should be spelled out; other numbers should be written as numerals.
• Dates should be in the following form: December 21, 1915; 1894-96; the 1900s.
• If an abbreviation is used in the article for the first time the full name or title must be given in parentheses [e.g. (CUP) Committee of Union and Progress].
• Any foreign word not known by the general public should be italicized.
III. Article Format
• Title must be all caps and centered
• All articles should be in Sylfaen (including Russian and English) 12 point font (including title, but endnotes 10 point font), double-spaced throughout.
• Long quotations (more than four lines) should be brought in the text in a separate passage, 10 point font without quotation marks.
IV. Footnotes
• Footnotes should be numbered consecutively from the beginning to the end.
• Footnotes should give the entire information of the publication, for example:
Թորոսյան Սարգիս,
Դարդանելից մինչև Պաղեստին
, Երևան, Հայոց ցեղասպանության թանգարան-ինստիտուտ, 2013, էջ 55:
Тунян Валерий,
Россия и Армянский вопрос
, Ереван: Музей-институт Геноцида армян, 1998, стр. 55.
Dadrian V.,
The History of the Armenian Genocide: Ethnic Conflict from the Balkans to Anatolia to the Caucasus
, Providence - Oxford: Berghahn Books, 1995.
• Journal names in the footnotes should be written in italic, for example:
Ներսիսյան Մ. Գ., Մի բանավեճ Զմյուռնիայի 1922 թվականի ողբերգության մասին (Զմյուռնիայի հայ և հույն բնակչության ջարդերի 70-ամյակի առթիվ),
Պատմաբանասիրական հանդես
, 1992, N 2-3, էջ 89:
Adalian R. P., "Comparative Policy and Differential Practice in the Treatment of Minorities in Wartime: the United States Archival Evidence on the Armenians and Greeks in the Ottoman Empire,"
Journal of Genocide Research
3(1) (2001): p. 35.
• If the book or the source is mentioned again after another footnote, then the name and surname of the author should be mentioned, then op. cit., p…
V. The copyright
• The copyright of the article will reside with "Journal of Genocide Studies".