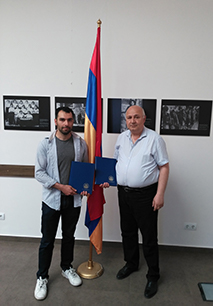 The Armenian Genocide Museum-Institute recently received, as a donation, the original statement made by the San Francisco Board of Supervisors on 24 April 2021, with which the San Francisco Board of Supervisors (City Council) announced April 24, 2021 as "Armenian Genocide Remembrance Day" in San Francisco and urged US President Joseph Biden to keep his promise to formally recognize the Armenian Genocide. At the same time, the San Francisco Board of Education was called upon to reaffirm its commitment to teach the historical facts of the Armenian Genocide in San Francisco public schools.
The statement adopted also stated that the 44-day destructive attack by Azerbaijan on Artsakh (Nagorno-Karabakh) on 27 September 2020, with the military-political support of Turkey, was a direct result of the Turkish-Azerbaijani policy of denial of the Armenian Genocide.
The San Francisco Board of Supervisors also strongly condemned the arson of the Armenian Cultural Center in San Francisco and the revelations of anti-Armenian vandalism against the Gruzian-Zakarian-Vaspurakan National School and the adjacent Armenian Center.
Thus the adopted statement emphasized the teaching of the Armenian Genocide in educational institutions in San Francisco, condemned the policy of denial by Turkey and Azerbaijan and the impunity they enjoy from blame for the Armenian Genocide, creating fertile ground for such new crimes.