01.12.2021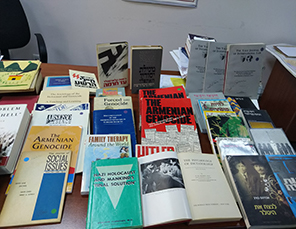 The library of the Armenian Genocide Museum-Institute Foundation has been enriched with more than 50 books from the personal library of Israel Charny, a Jewish genocide scholar and editor of the Encyclopedia of Genocide, which were brought from France to Armenia by Dr. Vigen Karapetyan. The books were passed to him by the Honorary Consul of the Republic of Armenia in Israel Tsolak Momjyan.
It should be recalled that in 2011 Israel Charny was awarded the Republic of Armenia's Presidential Prize "in recognition of decades of academic work in support of research on the recognition of the Armenian Genocide and genocide denial." He donated about 700 volumes of genocide literature from his personal library to the library of the Armenian Genocide Museum-Institute in 2013 and a room named after him was opened at the Armenian Genocide Museum-Institute in 2015, where the books from his personal library are housed.
This donation of rich literature provides an opportunity for serious scientific research into the fields of the Jewish Holocaust and the Armenian Genocide, as well as for comparative studies of genocides.