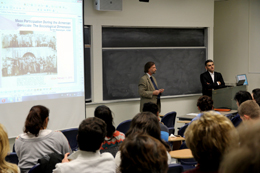 On February 11, 2013 Deputy Director of Armenian Genocide Museum and Institute and Fulbright Visiting Scholar at Center for the Study of Genocide, Conflict Resolution, and Human Rights of Rutgers University of New Jersey Suren Manukyan within the framework of the Fulbright Occasional Lectures Fund had a presentation "Mass Participation During the Armenian Genocide: The Sociological Dimension", hosted by the UCLA Program in Armenian Language and Culture. Manukyan shared ideas and findings of his study with the audience of UCLA students, faculty and members of Armenian community. He focused on need of shift the research of Armenian Genocide from abstractions and impersonal structures to actors. The question "Who were involved and implemented Armenian Genocide?" was discussed. The prominent scholars of Armenian Studies such as Richard Hovhannisian, Sebouh Aslanian, Roubina Peroomian, Peter Cowe as well as students of UCLA attended the lecture.
On Feb 13 Dr.Manukyan had a community meeting in Fresno and presentation "The Perpetrators and Victims during the Armenian Genocide. Socio-Psychological Dimension". Students, Faculty of CSU-Fresno and members of Armenian community of Fresno attended the lecture. The interesting discussion initiated after the presentation. Professors Barlow Der Mugrdechian, Sergio La Porta, Sona Haroutyunian were among the audience.
On February 14 Suren Manukyan spoke during the class of Armenian History at CSU-Fresno. The main topic was the Structure of perpetrator hierarchy during the Armenian Genocide. The talk was hosted by the Armenian Studies Program and the Center for Armenian Studies at Fresno State. Students were also interested in activities and plans of AGMI-Armenian Genocide Museum and Institute.
On February 19 the last lecture of Suren Manukyan took place at UC Berkeley, hosted by Armenian Studies Program at Institute of Slavic, East European, and Eurasian Studies of UC Berkeley headed by Dr. Stephan Astourian. The audience was some community members and some students. The Socio-psychological Dimension of the Armenian Genocide was discussed during this event. The main question was "How ordinary people became mass murderers during the Armenian Genocide". S.Manukyan focused on process of Social indoctrination of Muslim population of the Ottoman Empire, Rationalization of Cruelty, Dehumanization of the Victims and "Cultural Preconditions" for creation of genocidal mindset.