02.06.2022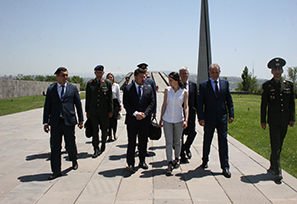 The delegation of the Ministry of National Defense of the Hellenic Republic headed by the Deputy Minister of National Defense Chardalias Nikos, who arrived in Armenia on a working visit, visited the Armenian Genocide Memorial on June 2.
The guests were welcomed by the AGMI Deputy Director for Museum Affairs Lusine Abrahamyan, who presented the history of the memorial.
Chardalias Nikos laid a wreath at the Genocide Monument, after which the accompanying delegation members put flowers at the Eternal Fire and honored the memory of the innocent martyrs with a minute of silence.
The guests also visited the Genocide Museum and toured the temporary and permanent exhibitions there, after which Chardalias Nikos left a note in the Memory Book of Honorable Guests.