02.11.2016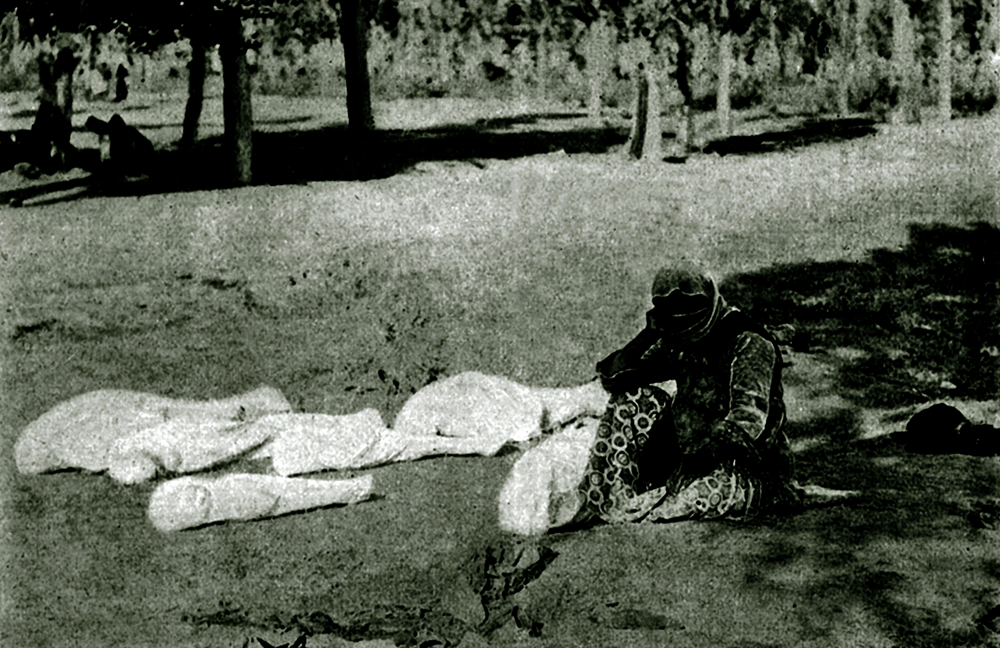 The photo is of an Armenian woman from Van being lost all her family members, in the territory of Mother See of Holy Etchmiadzin. The dead bodies of the victims are covered with white shrouds to prevent further spread of typhus epidemic.


The photo was entitled "Despair". The mother is surrounded with the corpses of her 5 children wrapped in sheets. It is a typical scene of the Armenian Genocide. The daily reports and documents of representatives of foreign missions, orphans and health-caring organizations and documents also prove this fact.
In 1915, tens of thousands of Armenians from Van and its surrounding villages, who survived the bloody massacre, had moved toward the Eastern Armenia along with retreating Russian troops. The caravan of deportees had been frequently attacked by Kurdish tribes suffering many loses. Settling in province of Yerevan of the Russian Empire, a large number of deportees accumulated in the territory of Mother See of Holy Etchmiadzin and surrounding areas. Epidemic diseases of malaria and typhus began to spread among the deportees because of the hot weather of summer snatching thousands of lives.
"I have by no means told the most terrible details, for a complete narration of the sadistic orgies of which these Armenian men and women were the victims can never be printed in an American publication. Whatever crimes the most perverted instincts of the human mind can devise, and whatever refinements of persecution and injustice the most debased imagination can conceive, became the daily misfortunes of this devoted people. I am confident that the whole history of the human race contains no such horrible episode as this. The great massacres and persecutions of the past seem almost insignificant when compared with the sufferings of the Armenian race in 1915."


Henry Morgenthau
US Ambassador to the Ottoman Empire (1913-1916)
Morgenthau H., Ambassador Morgenthau's story, New York, Doubleday, Page and Company.
Photo: Red Cross Magazine, March, 1918.