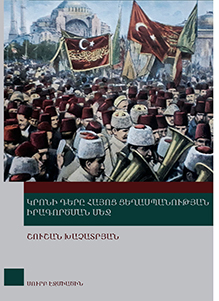 The monograph titled
The Role of Religion in the Realization of the Armenian Genocide
by Dr. Shushan Khachatryan, head of the AGMI Armenian Genocide Victims' Documentation and Data Collection Department, has been published.
The monograph examines the use of religion as a factor and tool in the realization of the Armenian genocide as seen in an historical-religious light. The study chronologically covers the entire course of the Armenian Genocide (1915 to 1923) from the time of the Ottoman Empire's entry into World War I (14 November 1914). This is the first such study using a science-oriented methodology with a complete examination of questions and issues raised. It also brings together and studies the calls for jihad (holy war), translating and publishing some of them into Armenian for the first time.
This study is intended for a wide range of genocide scholars, theologians, historians, orientalists, political scientists, psychologists and all those interested in questions relating to genocide generally.