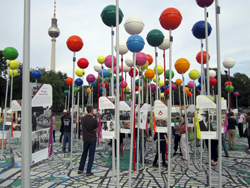 Exhibition Organized in Berlin Has Reference to Soghomon Tehleryan and the Fact of the Armenian Genocide.
In this autumn the capital of the Federal Republic of Germany is going to celebrate its 775th anniversary. On the occasion of this anniversary many events and also an open exhibition will be organized in different parts of the city. An exhibition entitled "City of Diversity" is presented in the center of the city close to "Island of Museums". This exhibition is dedicated to the ethnic diversity of the City of Berlin, historical and cultural traces of different nationalities and also memorable events which are presented in separate exhibition boards.
Among other events, the symbolic 1:775 scale plan of the city contains a separate nameplate. It tells the visitors about the Armenian Genocide and Soghomon Tehleryan's motivations to kill the Interior Minister of the Ottoman Empire, Talaat Pasha, and about Tehleryan's judgment of acquittal by the German court. The nameplate is situated in the historical Hardenbergstrasse in the plan of the city.
All the materials for this nameplate have been provided by the Armenia's Information and Documentation Center in Germany.