04.10.2014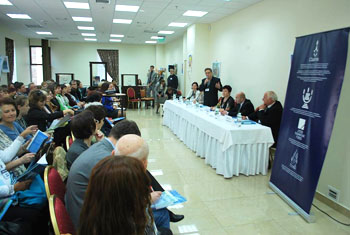 On September 29-8-29, 2014, by the invitation of "Tkuma" Ukrainian Institute of Holocaust studies, researcher of AGMI Robert Tatoyan has participated in Ukrainian city of Dnepropetrovsk, in the commemoration ceremony dedicated to the 73th anniversary of Babi Yar tragedy, as well as a number of events organized in the framework of this ceremony, including the opening of German touring exhibition "Dictatorship and Democracy in the Age of Extremes" and summing up of creative competition "Lessons of War and Holocaust".
In his speech during the commemoration ceremony Robert Tatoyan referred to the parallels between the Jewish Holocaust and Armenian Genocide, and noted the importance of becoming the memories of Armenians and Jews who survived the genocide, part of the memory of mankind in general, something which will allow us to create a more stable base for the prevention of future crime.
The commemoration ceremony was attended by the Chief Rabbi of Dnepropetrovsk, Shmuel Kaminetzky, the German Consul General of Ukraine, Dr. Detlev Wolter, the Dnipropetrovsk Deputy Governor, Boris Treigerman and others.
Babi Yar is a ravine area near Kiev; where more than 100,000 people, mainly Ukrainian Jews, were killed in mass shootings by the German fascists in 29-30 September, 1941. The massacre of Babi Yar is considered as one of the most horrible episodes of the Holocaust.