05.04.2014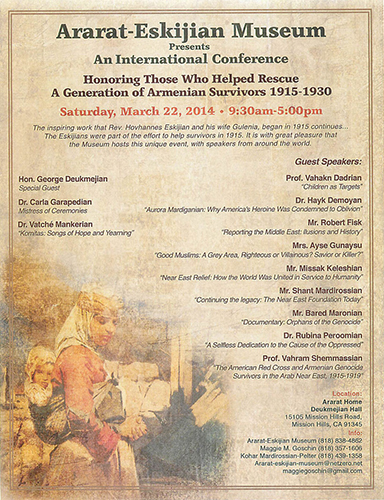 The International conference "Honoring Those Who Helped Rescue a Generation of Armenian Survivors (1915-1930)" was held at the Ararat-Eskijian Museum in Mission Hills, Los-Angeles on March 22, 2014.
On the occasion of the one-hundredth anniversary of World War I, the event gave a tribute to all the countries and individuals that had sacrificed much to aid a perishing nation. As part of the program, diplomatic representatives were invited from over twenty countries that had taken part in the rescue efforts.
As part of the commemoration, special guest and former California Governor, George Deukmejian, presented the representatives of these countries with a "Service to Humanity" award represented by a replica of the Mother Armenia statue.
The director of AGMI Dr. Hayk Demoyan, Prof. Vahakn Dadrian, journalist Robert Fisk, Dr. Rubina Peroomian, filmmaker Bared Maronian, Prof. Vahram Shemmassian and others took part in the conference. Other leading scholars from around the world were also present to discuss the manner in which the international community, including the American Red Cross, American Near East Relief, and the League of Nations, participated in taking the first major humanitarian effort of the twentieth century.
The director of the Armenian Genocide Museum-Institute, Hayk Demoyan in his speech titled "Aurora Mardiganian: why America's heroine was condemned to oblivion" presented a recently revealed story of Genocide survivor Avrora Mardiganyan, a girl from Chmshkatsag. Surviving the Genocide she settled in the US where she told the story of survival in the book "Ravished Armenia" based on her own memories and later on in the film "Ravished Armenia or Auction of Souls" produced in Hollywood. This was the first movie talking about the Armenian Genocide. Aurora played the leading role herself.