06.05.2021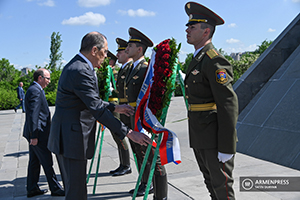 On 6 May, the Russian Foreign Minister Sergey Lavrov, who arrived in Armenia on a working visit, visited the Armenian Genocide Memorial accompanied by the Armenian Foreign Minister Ara Ayvazyan.
The guests were welcomed by the Deputy Scientific Director of the Armenian Genocide Museum-Institute Edita Gzoyan. The Foreign Ministers laid a wreath at the memorial to the victims of the Armenian Genocide and laid flowers at the Eternal Fire.
At the end of the visit Sergey Lavrov watered the fir he had planted in the Memory Park.