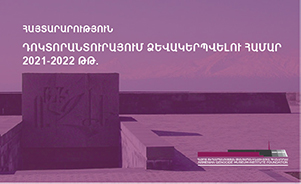 The Armenian Genocide Museum-Institute Foundation announces admissions to its post-doctoral degree programme for the 2021-2022 academic year. This is in accordance with the Government of the Republic of Armenia's decision N 760-N of 13 May 2021 titled "On approving the places of admission to post-doctoral degree programmes and their distribution among the higher educational institutions and scientific organizations of the Republic of Armenia for the 2021-2022 academic year".
Applications will be accepted from July 8 to July 28.
Relevant documents must be submitted to AGMI Foundation, 8/8 Tsitsernakaberd Highway, Yerevan.
The application for enrollment in the doctoral programme may be submitted by the person or his/her authorised representative and sent to the head of the relevant institution, attaching the following documents:
1)
A copy of the sciences candidate's degree certificate (for those who have received their degree certificate in other countries, and the certificate of conformity issued by the higher qualification commission).
2)
Doctoral dissertation plan.
3)
CV and 3 photos (3 x 4 cm in size).
4)
A list of published scientific works, inventions and discoveries and research carried out.