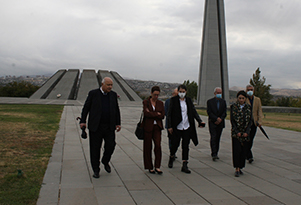 The newly appointed Ambassador of France to Armenia Anne Louyot visited the Armenian Genocide Memorial on 6 October.
The Ambassador was welcomed by AGMI Director Harutyun Marutyan, who presented her with the history of the creation of the Memorial. Mr. Marutyan also told the ambassador the story of 3 khachkars placed in Tsitsernakaberd park, which are dedicated to the memory of the Armenians who perished during the ethnic cleansing of the Armenian population within Azerbaijan at the end of the last century.
Her Excellency Anne Louyot laid a wreath at the Genocide Monument, after which the accompanying guests placed flowers at the Eternal Flame and honored the memory of the innocent martyrs with a minute of silence.
Ambassador Louyot also toured the Armenian Genocide Museum, saw with permanent and temporary exhibitions and left a note in the Honorable Guests' Book. She ended her visit by touring in the gallery of the museum, where the exposition "Jansem: A Painter of Medz Yeghern" is presented.
Expressing his thanks to Anne Louyot for the interest she showed during her visit, Mr. Marutyan presented the honorable guest with copies of the latest AGMI publications.