06.11.2013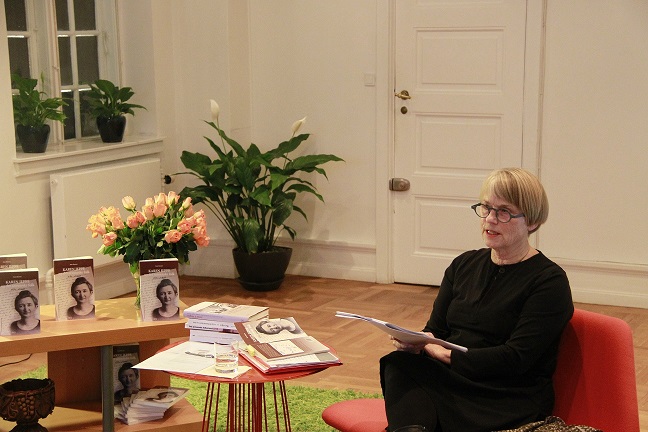 The presentation of the book "Karen Jeppe and the Armenians: a life a call" by Danish writer Kate Royster , took place on November 6th, at the Armenian Embassy in Denmark. The event was attended by representatives of the Armenian community and Danish intellectuals.
In his welcoming speech, the Armenian Ambassador to Denmark H. Aghajanyan, indicated that the chosen date for the presentation is not a result of coincident. Last year on the same day was the 130th anniversary of Maria Jakobsen, the mother of Armenian orphans, and at that day
the exhibition "The Armenian Genocide and the Scandinavian response" was opened in The Royal Library in Copenhagen
, which was organized by The Armenian Genocide Museum-Institute.
In his speech, the ambassador recalled that recently the Danish prestigious newspaper «Kristeligt Dagblad» published several articles related to the Armenian Genocide, and one of them was "The Armenian History is Our History", adding that because of Maria Jacobsen and Karen Jeppe, a lot of Danish people accept the Armenian history as part of their history.
The author, in her turn, said that when in Syria she was told about the grave of Karen Jeppe, but didn't had the time to visit her, and because of that she paid another visit to Syria. She started to study the life and works of Karen Jeppe. She visited her birthplace in Gylling, and examined the local archives, as well as the Danish Royal Library and studied the materials about The Armenian Genocide.
The book "Karen Jeppe and the Armenians, a life a call" was published on May 2013. It tells about the life and works of Karen Jeppe. In the preceding century Karen Jeppe, after hearing terrifying stories from the humanitarian organization "The Danish friends of Armenians" about the massacres against Armenians in the Ottoman Empire, decides to go to help those who were alive. In 1903 she arrives in Urfa and starts teaching and taking care of the Armenian orphans. She remains in Urfa and witnesses the Armenian Genocide.
In 1921 she moves to Aleppo to take care of the orphans there, and free the women who were in captivity, and remains there the rest of her life. Thousands of Armenians in Aleppo received their education at the Armenian High school which is founded by Karen Jeppe and named after her.