07.11.2013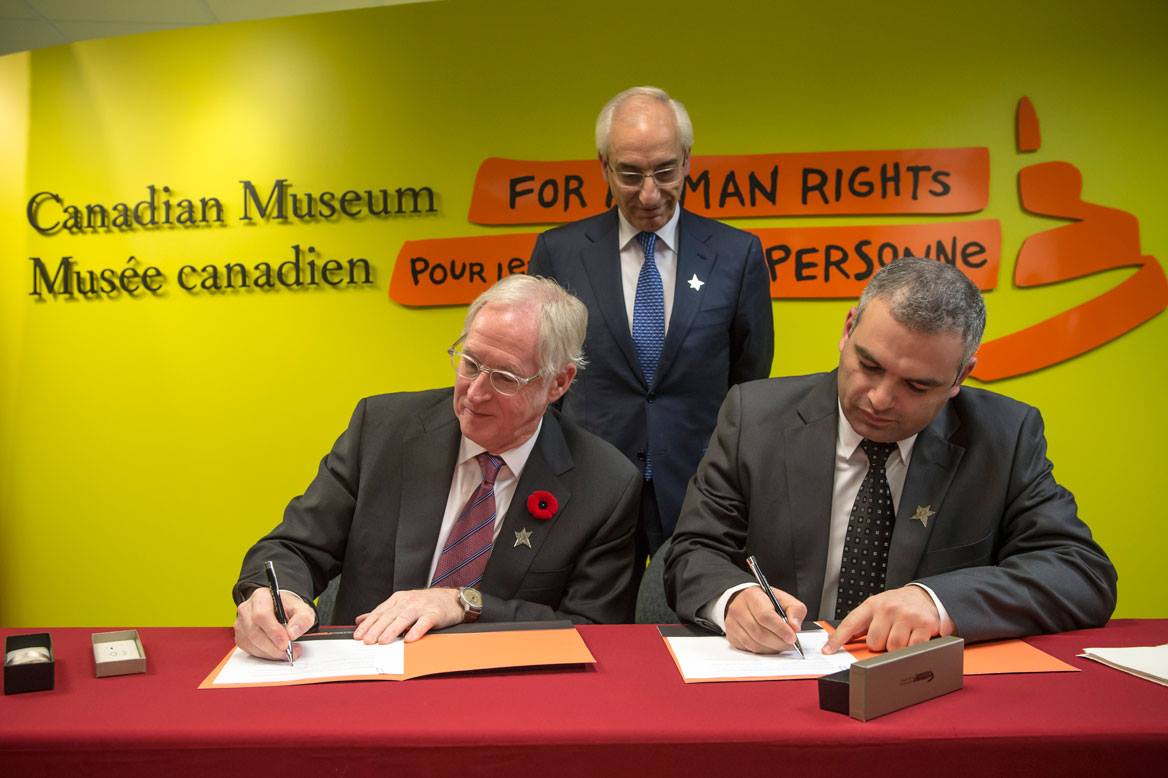 On November 7, the Canadian Museum for Human Rights (CMHR) and the Armenian Genocide Museum Institute (AGMI) signed a Memorandum of Understanding, in Winnipeg, Canada. The official signing of the MOU between the CMHR and AGMI is thanks to the assistance of the Zoryan Institute of Canada – a Canadian organization which advances scholarship and public awareness relating to issues of universal human rights, genocide, and diaspora-homeland relations.
The objective of the MOU is to exchange knowledge and expertise, educational materials, and exhibitions with respect to human rights, share research and advice, cooperate to advance the academic study of human rights and reconciliation, the Armenian Genocide and its effects, and processes seeking justice and reconciliation, and work together to educate people on issues of human rights, in both national and global contexts. The two sides also agreed to organize an exhibition, dedicated to the Armenian Genocide, at the Canadian Museum of Human Rights (CMHR) in 2015.
The contract was signed by Dr. Hayk Demoyan, Director of the Armenian Genocide Museum Institute (AMGI), and Mr. Stuart Murray, President and CEO of the Canadian Museum for Human Rights (CMHR). The signing ceremony was attended by Mr. Armen Yeganian Ambassador Extraordinary and Plenipotentiary of the Republic of Armenia, President of the Zoryan Institute Mr. Gurgen Sargsyan, and representatives of the Armenian community in Canada.
"Respect for human rights is hard to build, but easy to destroy. Every society that embraces human rights has to be continually vigilant to promote and protect those human rights," Mr. Stuart Murray said. "We are very pleased to be joining hands with the Armenian Genocide Museum Institute to promote education, awareness and dialogue about human rights."
"The Armenian genocide is an important human rights story," said Dr. Demoyan. "The concept of a crime against humanity was developed in response to this horrific series of violations against the Armenian people. This partnership will help bring the story of the Armenian genocide to a wider audience, to the benefit of generations to come."
The opening of the Canadian Museum for Human Rights is expected on September 2014. During his visit to Canada, Dr. Hayk Demoyan, Director of the Armenian Genocide Museum Institute (AMGI), held meetings with representatives of Armenian communities in Toronto and Montreal. Together they discussed issues about organizing events and ceremonies dedicated to the centenary of the Armenian Genocide and the overall strategy of these events.