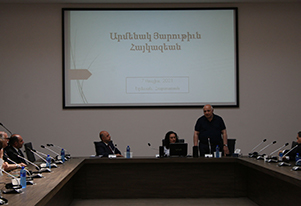 A commemorative event dedicated to the 100th anniversary of the martyrdom of theologian, pedagogue, scientist, linguist and musician Armenag Haigazian took place in the conference hall of the Armenian Genocide Museum-Institute on 7 July. He was arrested by Kemalist forces on 22 May 1921, exiled, became infected with spotted fever on his way to exile and died on 7 July 1921 due to a deliberate delay in treatment.
The Haigazian University in Beirut was so named in his honour.
The commemoration event was attended by graduates of Haigazian University of various years, including former Republic of Armenia Foreign Minister Ara Ayvazyan. AGMI Director Harutyun Marutyan welcomed the guests with an opening speech, emphasizing the close friendship and co-operation of the Armenian Genocide Museum-Institute with the most important educational institution in the diaspora, Haigazian University.
The President of Haigazian University, Rev. Dr. Paul Haidostian provided the participants with information about Armenag Haigazian's life, activities, arrest and death. During his speech he also mentioned that Armenag Haigazian, who had studied in Chicago and Yale universities, had been recognized as the most prominent Armenian educator in the Middle East by the "New York Times".
The guests visited the Armenian Genocide Memorial after the event, laid flowers at the Eternal Fire then recited the lines that Armenag Haigazian pronounced with his last breath. Rev. Paul Haidostian handed Harutyun Marutyan, the director of the Armenian Genocide Museum-Institute, a collection of articles about Armenag Haigazian and Haigazian University.