09.01.2014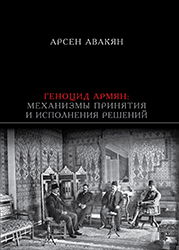 The Armenian Genocide Museum-Institute has published the work of Doctor of Historical Science Arsen Avakyan "The Armenian Genocide, The Mechanisms of Decision-making and Implementation". The book reveals the mechanisms of decision-making and their implementation during World War I and the years after war , based on archives and primary sources.
The book analyzes deeply the inner structure of The Committee of Union and Progress, which made the decision of Armenians extermination, the intergroup configuration of power in the central body of this party, and the structure and creation process of "Special Organization". It also covers the responsibility of Young Turks and the Parliament in destruction the Christian population all over the Ottoman Empire during World War I.
The book also discusses the participation of the army in the genocide against the Armenian population. Some documents from Turkish archives have been put in scientific circulation, including legislation of Ottoman Parliament regarding the deportation of the Armenians, the orders of Young Turks signed by Talaat Minister of Internal Affairs, and other ministers, as well as quotations from the records of court hearings about the deportation of Armenians and the massacres, which was going on during the deportations. The book is addressed to historians, researchers studying the history of World War II, orientalians, as well as to wide audience.