09.06.2022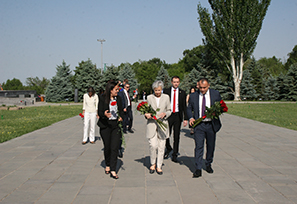 The delegation led by the newly elected President of the European Commission "Democracy through Law" (Venice Commission) Mrs. Claire Bazy Mallory, who arrived in Armenia on an official visit, visited the Armenian Genocide Memorial on June 9 accompanied by the President of the RA Constitutional Court Arman Dilanyan.
The guests were welcomed by the Deputy Scientific Director of the Armenian Genocide Museum-Institute Edita Gzoyan, who presented the history of the memorial and the history of the creation of the Memorial. She also related the story of the 3 khachkars placed in Tsitsernakaberd Park and dedicated to the memory of the Armenians who perished during the ethnic cleansing of the Armenian population within Azerbaijan at the end of the last century.
The members of the delegation from Europe laid flowers at the Eternal Fire and observed a minute of silence in memory of the consecrated martyrs of the Armenian Genocide.
The guests also visited the Armenian Genocide Museum accompanied by Deputy Scientific Director of AGMI Edita Gzoyan, and toured the temporary and permanent exhibitions there, after which Claire Bazy Mallory left a note in the Memory Book of Honorable Guests.