09.07.2014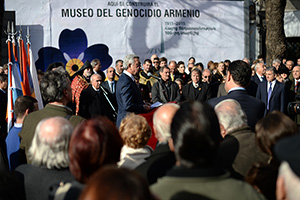 On July 8, within the scope of his official visit to the Republic of Argentina, President Serzh Sargsyan accompanied by the Chief of Staff to the Buenos Aires city government Horacio Larreta, the representatives of local self-government bodies and the Armenian community of Argentina attended the groundbreaking ceremony of an Armenian Genocide museum at the neighborhood of Palermo district in Buenos Aires. After the consecration of the memorial foundation, the Chief of Staff to the Buenos Aires city government Horacio Larreta and the Chief of Armenian President's staff Vigen Sargsyan opened it. The President of Armenia made a speech before the participants of the ceremony.
"This museum is being built in order to fill up the ranks of the numerous monuments dedicated to the Armenian Genocide which extend from the East to the West and from the North to the South as a vivid testimony to the fact that no matter how much time passes we will keep on remembering and demanding. Human memory is a sort of a historical sieve which keeps with special gratitude those names and place names, which always sow seeds of justice and push forward the noblest universal values", - noted the President in his speech.
The director of AGMI Hayk Demoyan has noted lately that such establishments are required not only for the Armenian people, but also for the international community. "In the next decade the opening of Armenian Genocide museums in the largest capitals of the world shall me the primary and preferable strategic direction",- mentioned Mr. Demoyan adding that. "The museums will also have an educational mission especially among the young people, inasmuch as the plan to visit museums will be included in school agenda and will have an important role not only for raising the awareness about genocides, but also for their refusal and condemnation".
We remind you kindly, that ahead of the 100th anniversary of the Armenian Genocide, on May 6 of 2014 the government of the city of Buenos Aires decided to allocate a free area for the construction of an Armenian Genocide museum in the Palermo district of the Capital of Buenos Aires. On June 10, with the participation of the RA embassy in Argentina and under the patronage of Hay center and the Armenian diocese of Argentina the official ceremony of handing the legal documents of the area allocated by the city authorities of Buenos Aires for the purpose of building an Armenian Genocide museum took place.