09.09.2014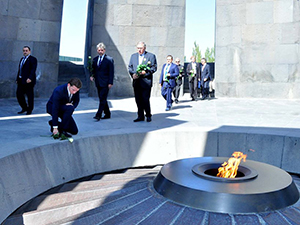 On September 8 within the framework of his state visit to Armenia Austrian Foreign Minister Sebastian Kurz visited Tsitsernakaberd Memorial Complex and paid tribute to the victims of the Armenian Genocide.
Austrian Foreign Minister laid a wreath at the Memorial of the Armenian Genocide victims. Then members of the delegation laid flowers at the eternal fire and honored the memory of the innocent victims with a minute of silence.
At the end of the visit the Austrian delegation had a tour at the Memorial Alley where the Austrian Minister watered the fir which was planted in 2010 by Austrian Foreign Minister Michael Spindelegger.