10.09.2022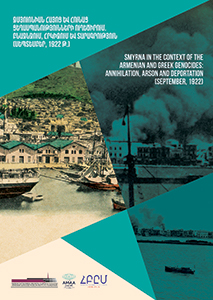 The "Armenian Genocide Museum-Institute" foundation will be holding a three-day international conference in its conference hall titled
"Smyrna in the context of the Armenian and Greek genocides: annihilation, arson and deportation (September 1922
which will open at 9:00am on September 14th, 2022 (the co-organisers are Yerevan State University's Armenology Research Institute, K. Apovyan Armenian State Pedagogical University, Haigazian University of Beirut and Aristotle University of Thessaloniki's Pontic Studies Department).
Experts on genocide, as well as historians, ethnographers, technologists, psychologists and specialists in law from Armenia, Greece, Lebanon, USA, Canada, the Netherlands, Italy and the Czech Republic will be participating.
The official opening of the temporary exhibition of the same title will be taking place at 10:40am. The bilingual display (in Armenian and English), made up of thirteen panels, has been created from the Armenian Genocide-Museum's collections, survivors heirs' archives as well as from various items from other collections.
The international conference and the temporary exhibition have been realised thanks to the financial assistance provided by the Armenian Missionary Association of America and the Armenian General Benevolent Union.