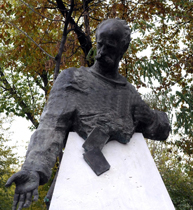 The monument of the friend of the Armenian nation, polar explorer, scientist, statesman, humanist, Nobel Laureate Fridtjof Nansen was erected on the cross-roads of Abovyan and Moskovyan streets in Yerevan as a part of celebrations of his 150th anniversary.
The president of the Republic of Armenia Serzh Sargsyan, high-ranking officials, as well as the Minister of Foreign Affairs of the kingdom of Norway Jonas Gahr Store and granddaughter of Fridtjof Nansen Marit Greve were present at the opening ceremony. The director of the Armenian Genocide Museum Institute Hayk Demoyan made an opening speech at the ceremony. After the unveiling of the monument President Serzh Sargsyan handed Mrs. Marit Grev the passport of the Republic of Armenia which provides the holder with a special statue and expressed his gratitude on behalf of the Armenian nation since Fridtjof Nansen gave thousands of Armenians the opportunity to find their place in the world by providing them such passports.
"This is my first to Armenia. I do not remember my grandfather much, as I was a child when he died but through his books I learnt a lot about Armenia and his love towards the Armenian nation" stated Grev and thanked the Armenian nation keep the memory of his family vivid.
Marit Grev was born in 1928. For 20 years she has been the editor of the Norwegian encyclopedia and the author of the book about Nansen. She is a member of council of Berum city, a member of the council of Akershus as well as the head of the center of the exploratory slips.
The closing of the ceremonies dedicated to the 150th anniversary of Fridtjof Nansen took place at the National Academic Opera and Ballet theatre named after AL. Spendiaryan.