10.11.2014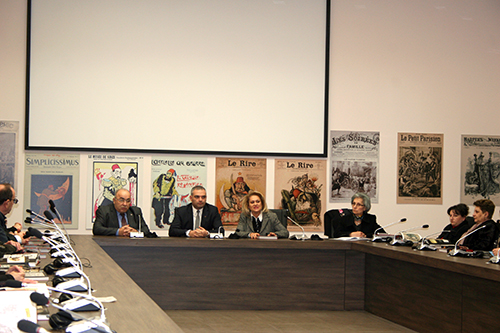 The school principles of Yerevan were hosted at the conference hall of the Armenian Genocide Museum-Institute to get acquainted with the academic and especially educational programs and the initiatives of the museum-institute on the eve of the Centennial of the Armenian Genocide, in part of which all the schools in Yerevan will be direct participants.
Director of the Armenian Genocide Museum-Institute Hayk Demoyan informed the guests, that currently the renovation and modernization works are being carried and underlined that one of the renewed hall will serve as an educational hall since May 2015, where the pupils will study the Armenian Genocide with special educational methods.
"We need to have a strong generation. The Armenian Genocide Museum-Institute is not established just to mourn or find facts. Ahead to the 100th anniversary it is important to teach the pupils that 2015 is not a final year, but a start and beginning of a recount. The museum-institute will be also active in the publishing arena. Our research staff is ready to support your initiatives", said the Director of AGMI, than he introduced his extensive illustrated book "Armenian National Symbols", which was published by the financial support of "Pyunik" (phoenix) foundation. Demoyan also noted that, as originally planned, half of the copies of this edition were intended for the schools of Armenia and Nagorno-Karabakh Republic, as well as the Armenian schools in Diaspora.
Demoyan as the author of the book also stressed: "During the times developing, changing and quick transitions of events we are facing serious challenges; they are challenges against society or against state. These symbols which symbolize statehood, unity and collectivity, besides teaching they have to inspire our young boys and girls in the formation and stabilization of civic consciousness", than provided examples of the book to all participants.
The meeting was also attended by Head of the Department of General Education of Yerevan City Hall Gayane Soghomonyan and Honorary President of the "Pyunik" Foundation Gabriel Chemberjian.
On the behalf of Mayor Taron Margaryan, Head of the Department of General Education of Yerevan City Hall Gayane Soghomonyan welcomed the initiative of AGMI, and mentioned that the City Hall is ready to support such educational initiatives; she also added "I am sure, that school principals and teachers are motivated with Soldier Readiness towards the program".
Honorary President of the "Pyunik" Foundation also expressed willingness to support such initiatives.
At the end of the meeting participants were given to the Armenian Genocide 100th anniversary emblem-badges.