11.01.2022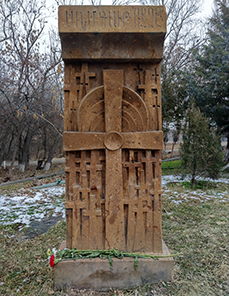 The khachkar in the Tsitsernakaberd memorial garden dedicated to the memory of the victims of the Sumgait crime was restored in October last year. It had been erected there on April 24, 1988, watched by large numbers of people and emphasizing that the Sumgait tragedy is the continuation of the Armenian Genocide.
The ethnic cleansing and mass deportation of the Armenian population of Sumgait in Soviet Azerbaijan by the Azerbaijani authorities, from February 27 to 29, 1988, was aimed at preventing the further spread of the Artsakh movement and to threaten the Armenians with future bloody actions. The number of victims of the Sumgait massacre is still unknown. According to the official data from the USSR Prosecutor's Office, the number of people killed is 26 but, according to unofficial data, is several hundred.
The massacres organised at the highest state level in Sumgait on February 27-29 have not yet received an adequate political and legal assessment.
As a result of the massacres of Armenians carried out by the Azerbaijani authorities in 1988-1990, cities in Azerbaijan were completely emptied of their Armenian populations.
The khachkar-sculpture placed on Tsitsernakaberd height was created by the sculptor and freedom fighter Smbat Hakobyan who, with his ideological friends, brought it there during the mourning procession of April 24, 1988. On that day, mourning procession participants carried large photographs of Armenian intellectuals such as Siamanto, Daniel Varoujan and Grigor Zohrap in black frames bordered with black ribbon, symbolizing the victims of Sumgait and the Armenian Genocide.
Each February 28, which has been commemorated as a day of remembrance for the victims of the massacres in the Azerbaijani SSR and the protection of the rights of the deported Armenian population since 2005, high-ranking Armenian officials and citizens honour the memory of the victims of the Sumgait tragedy at this khachkar. The history of the massacres of Armenians of Sumgait and the khachkar are presented to delegations that arrive in Armenia too.
It was necessary to repair the khachkar as its right side had cracked over decades. The repair was carried out on the initiative of AGMI Director Harutyun Marutyan and Deputy Director Smbat Manukyan.
The khachkar was renovated by Amiran Badishyan, a restoration architect and a founding member of the "Armenian Association of Architects Restoring Historic Monuments". He was also the main architect who drew up plans for the restoration of the mother cathedral of Holy Echmiadzin.