11.07.2022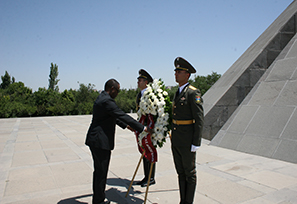 The delegation led by the Rwandan Minister of Foreign Affairs, Vincent Biruta, who arrived in Armenia on a two-day visit, visited the Armenian Genocide Memorial accompanied by the Mnatsakan Safaryan, RA Deputy Foreign Minister, on July 11.
AGMI Director Harutyun Marutyan welcomed the guests and told them the history of the creation of the memorial. He also related the story of the three khachkars placed in Tsitsernakaberd Park dedicated to the memory of the Armenians who perished during the ethnic cleansing of the Armenian population within Azerbaijan at the end of the last century.
Mr. Vincent Biruta laid a wreath at the Genocide monument, after which members of the accompanying delegation laid flowers at the Eternal Flame and honoured the memory of the innocent martyrs with a minute's silence.
The guests also visited the Armenian Genocide museum accompanied by Lusine Abrahamyan, AGMI Deputy Director for Museum Affairs and toured the temporary and permanent exhibitions there, after which Vincent Biruta left a note in the Visitors' Book. Expressing gratitude for the visit, Harutyun Marutyan presented the guest with books on the Armenian Genocide, after which he accompanied the guest to the AGMI conference hall, where the
training programme developed for American teachers was taking place
.
The Minister of Foreign Affairs of Rwanda addressed the teachers present with a short speech and, as a representative of a country that has gone through the horrors of genocide, emphasised the importance of conducting such programmes, expressing the hope that, through education, it would be possible to prevent their recurrence.
The guests, at the end of the visit, toured Memory Park, where Mr. Vincent Biruta watered the silver fir tree planted in 2018 by Louise Mushikiwabo, the Rwandan Minister of Foreign Affairs and Cooperation.