10.11.2014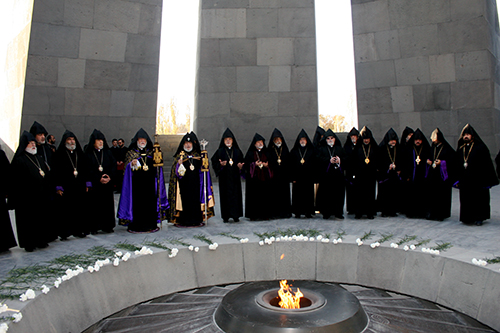 Under the presidency of His Holiness Garegin II, Supreme Patriarch and Catholicos of All Armenians and His Holiness Aram I, Catholicos of the Great House of Cilicia, leaders of Armenian Dioceses visited Tsitsernakaberd Memorial Complex of Armenian Genocide. Both Catholicoses laid a wreath at the Memorial of the Armenian Genocide victims.
Bishops of Armenian Dioceses of different countries put flowers at the eternal fire and held a memorial service for the peace of souls of the Armenian Genocide victims. The Bishops Synod of the Armenian Apostolic Church will launch on 11 November at the Mother See of Holy Echmiadzin. The discussion will focus on the issue of the Canonization of the Armenian Genocide victims.
His Holiness Garegin II noted: "To announce the beginning of the Bishops Synod, the Bishops visited Tsitsernakaberd to honor the memory of 1,5 million Armenian innocent victims and pray for the peace of the Armenians all over the world. We ask the Lord to bless the Bishop Synod to be under the grace of Holy Spirit, in order to satisfy our peoples' expectation as a result of our works".
His Holiness Aram I said, that the 100th anniversary of the Armenian Genocide will be a crucial cornerstone in the modern history of the Armenian people, "One hundred years we have been remembered and reminded about the Armenian Genocide; it's time to give our demands new power and new cast".