News
AN INTERNATIONAL CONFERENCE WAS HOSTED AT THE ARMENIAN GENOCIDE MUSEUM – INSTITUTE
Facing challenges of modern armed conflicts through the lens of IHL: new actors, new tasks, new solutions
11.11.2016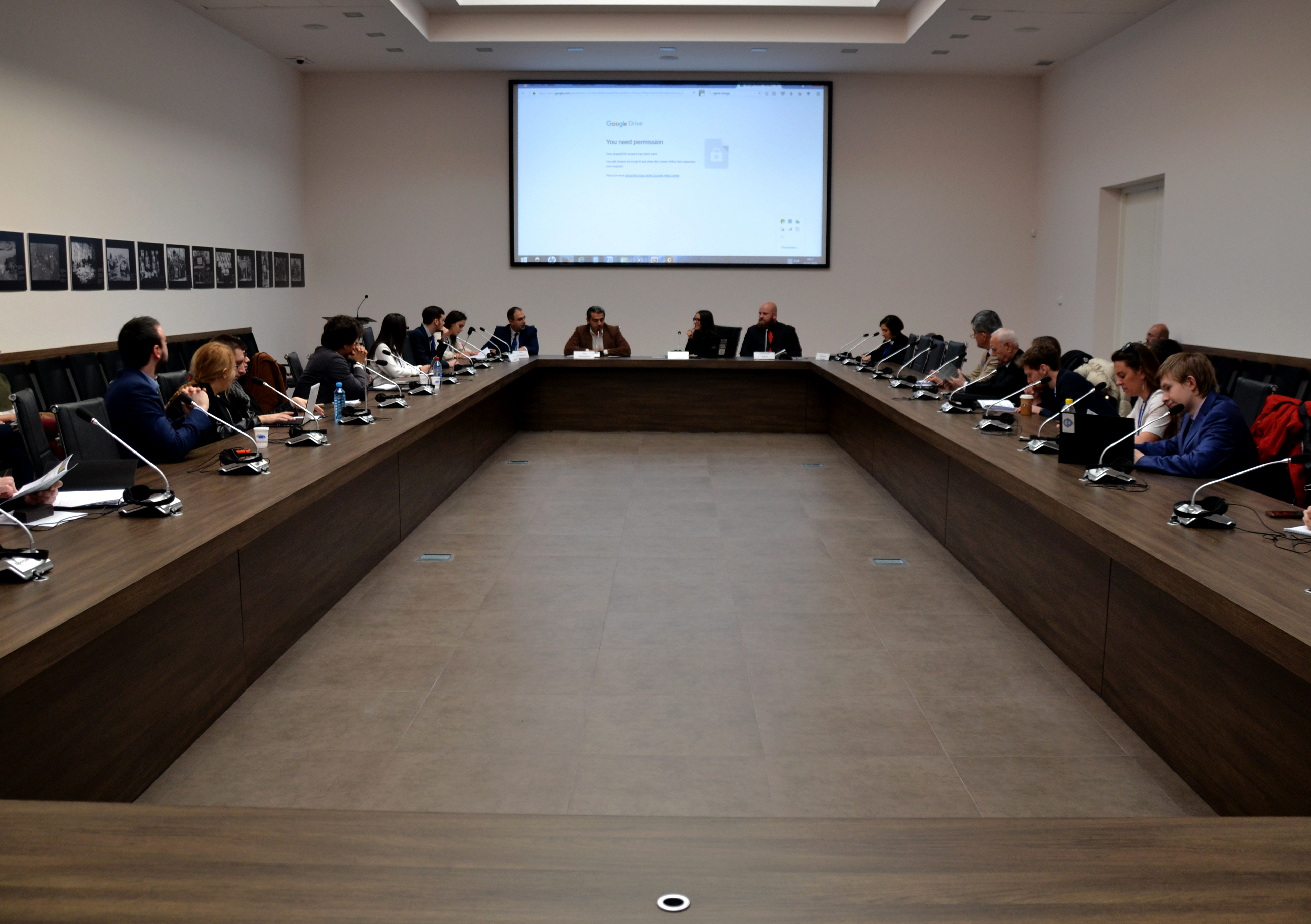 Today at the conference hall of the Armenian Genocide Museum - Institute an international conference titled "Facing challenges of modern armed conflicts through the lens of IHL: new actors, new tasks, new solutions" was hosted. The conference was organized by the Russian–Armenian University and the Delegation of the International Committee of the Red Cross (ICRC) and by the support of the Armenian Genocide Museum - Institute.

The opening and welcome speech was delivered by the Armenian Genocide Museum-Institute Deputy Director Suren Manukyan.

After the reports, exchange of experiences and discussions the participants took a tour at the Armenian Genocide Museum and got acquainted with the museum exhibition.

The participants of the conference visited Armenian Genocide Memorial Complex and honoured the memory of the innocent martyrs with a minute of silence.

At the conference took part participants from Belarus, Brazil, Estonia, France, Germany, Greece, India, Italy, Artsakh, Russia, Serbia, Switzerland and Armenia. Among the special guests of the conference were Mr. Nobuo Hayashi, Ph.D.– Senior Legal Advisor at International Law and Policy Institute (Norway), visiting Lecturer at UN Interregional Crime and Justice Research Institute, Mr. Bakhtiyar Tuzmukhamedov - professor of International Law at Diplomatic Academy of the Russian Federation and Vice-President of the Russian Association of International Law, retired Judge of UN ICTR and ICTR/ICTY Appeals Chamber, Mr. Michael J. Strauss - Professor of International Relations at the Centre d'Etudes Diplomatiques et Stratégiques in Paris, Ph.D. in international relations and diplomacy at the Centre for Diplomatic and Strategic Studies.

The main topics of the IX edition of the Conference were: IHL and Terrorism, Humanitarian Access, Humanitarian Impact of New Weapons Technologies, Memory in War, Non-State Actors and International Humanitarian Law, as well as issues of Environmental Protection in the Context of IHL.


DONATE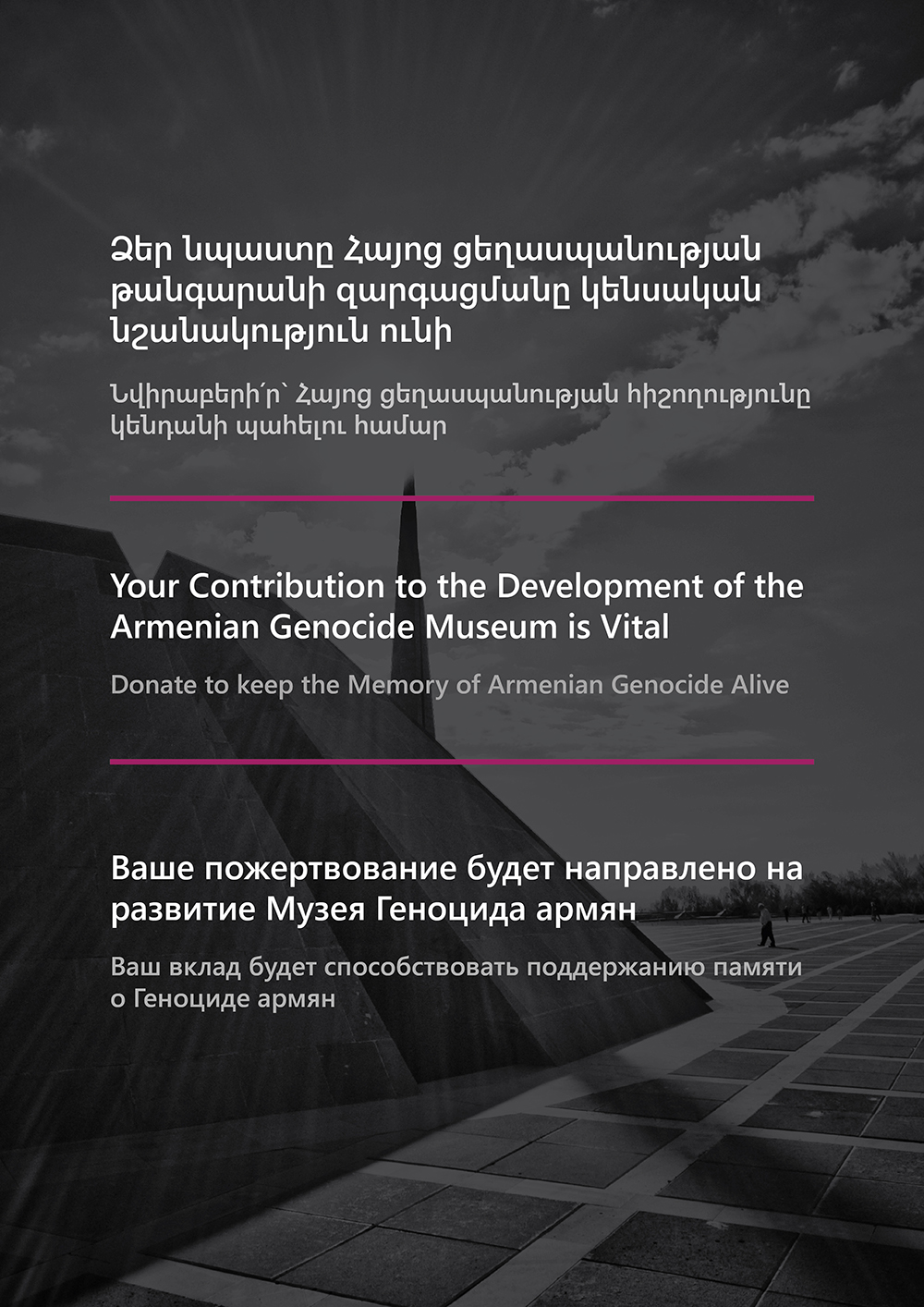 TO KEEP THE MEMORY OF THE ARMENIAN GENOCIDE ALIVE

Special Projects Implemented by the Armenian Genocide Museum-Institute Foundation
COPYRIGHT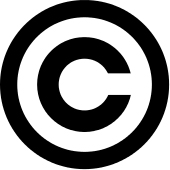 AGMI BOOKSTORE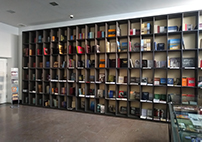 The Armenian Genocide Museum-Institute's "World of Books"
TESTIMONIAL OF ARMENIAN GENOCIDE SURVIVORS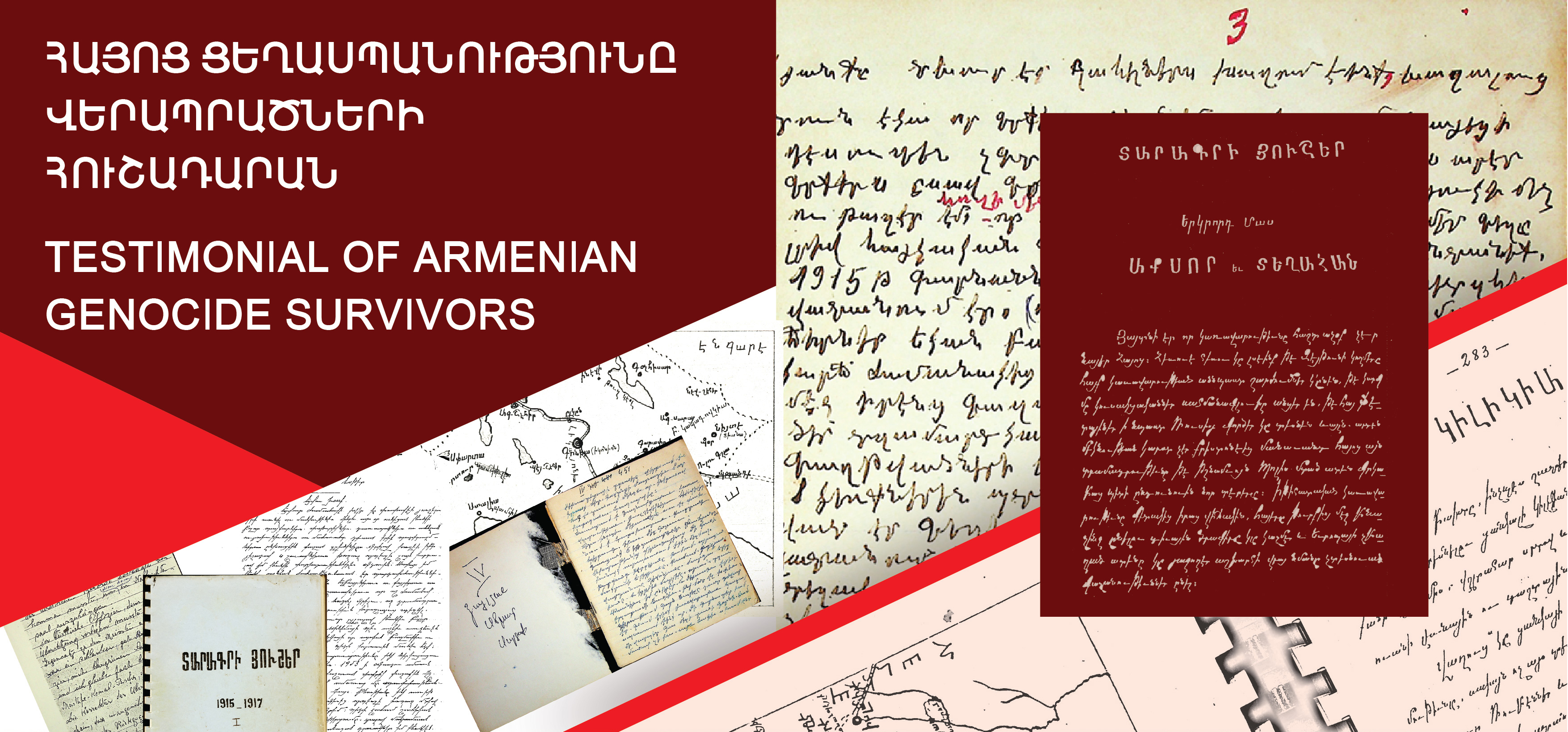 THE AGMI COLLECTION OF UNPUBLISHED MEMOIRS


ONLINE EXHIBITION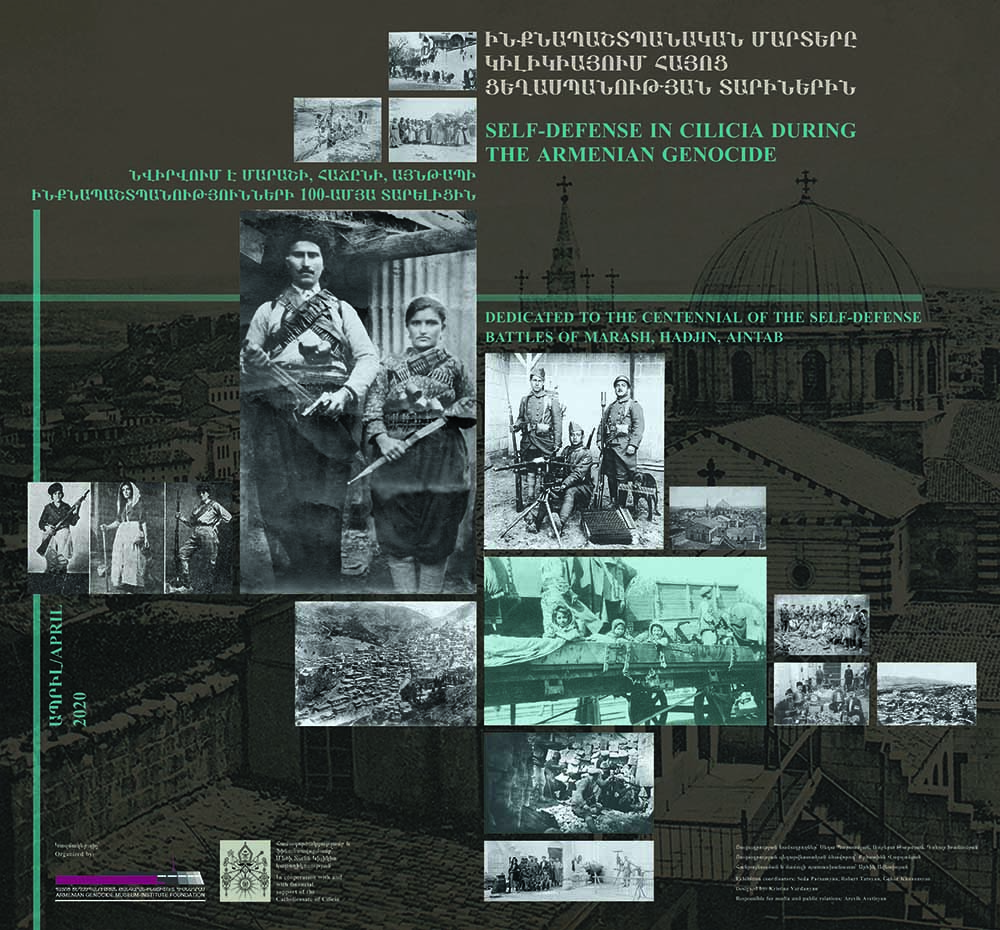 SELF-DEFENSE IN CILICIA DURING THE ARMENIAN GENOCIDE

DEDICATED TO THE CENTENNIAL OF THE SELF-DEFENSE BATTLES OF MARASH, HADJIN, AINTAB
LEMKIN SCHOLARSHIP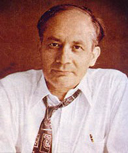 AGMI ANNOUNCES 2022
LEMKIN SCHOLARSHIP FOR FOREIGN STUDENTS
TRANSFER YOUR MEMORY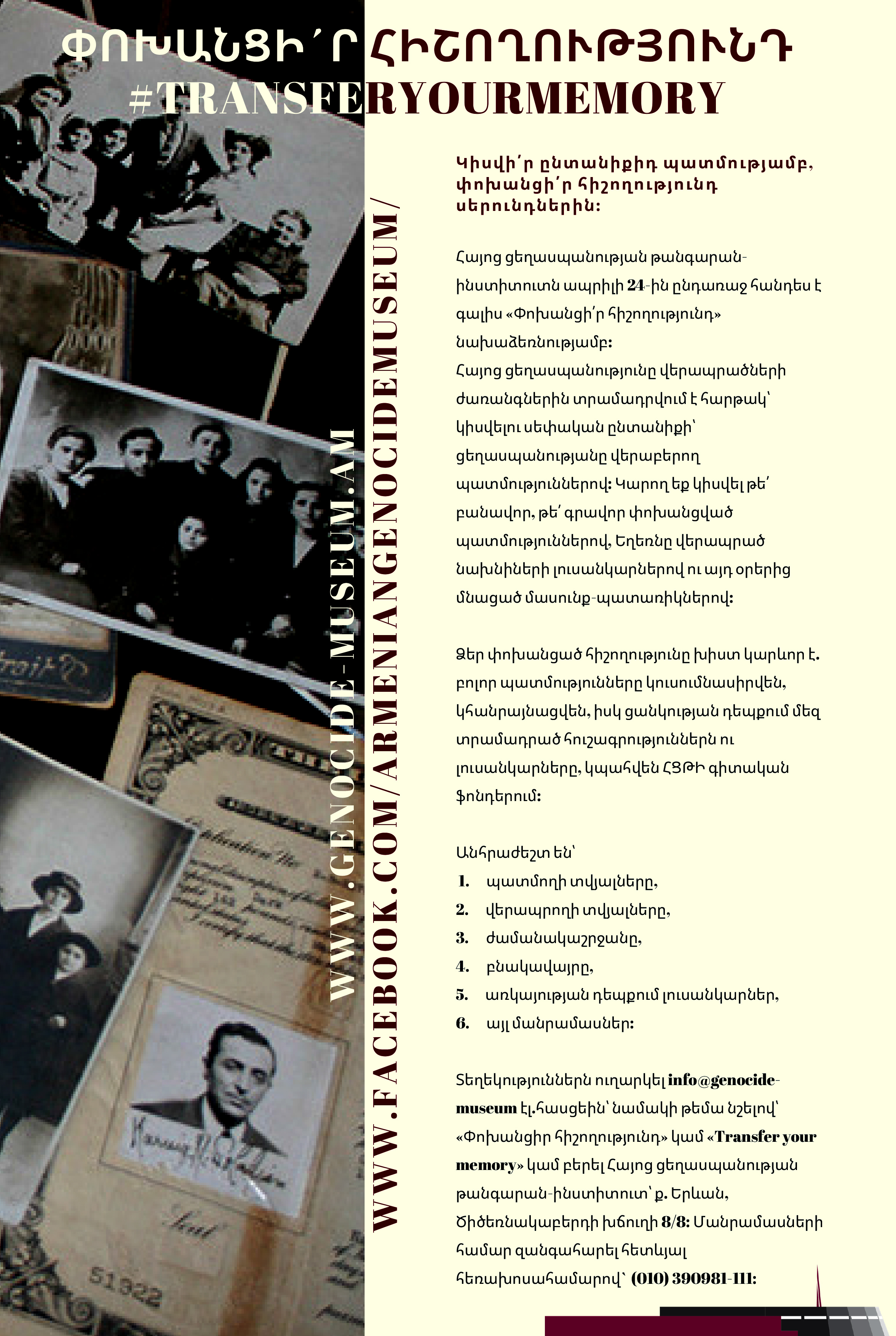 Share your family story, Transfer your memory to generations.
On the eve of April 24, the Armenian Genocide Museum-Institute undertakes an initiative "transfer your memory".