12.07.2016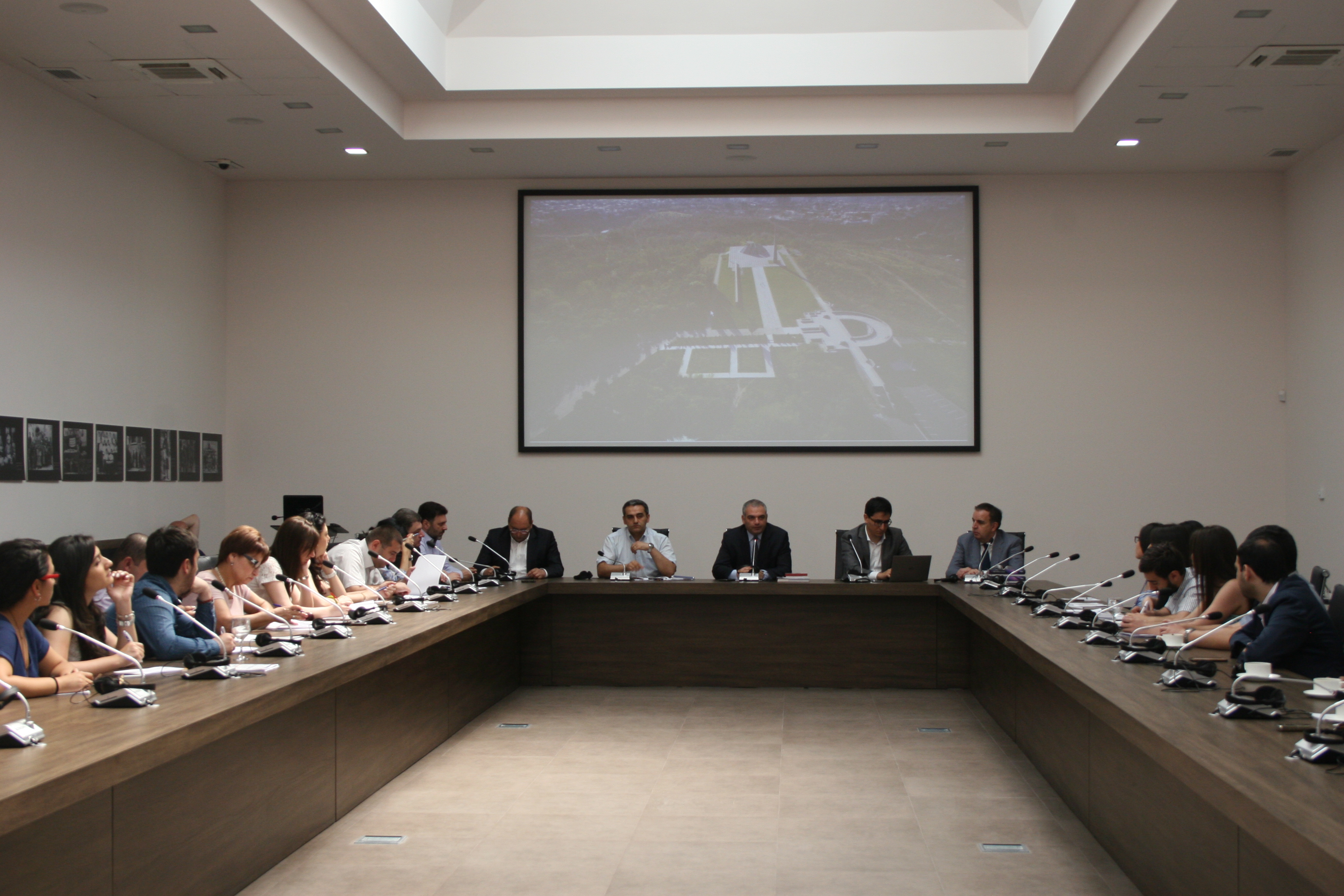 In 12 July the first meeting of Youth Forum "Armenia: Let's Create Together" took place at Armenian Genocide Museum-Institute. The group of "Protection of Armenian Interests and Media" also participated in the meeting. The theme of the meeting was "Armenian Genocide: 100 years later".
The meeting was opened by the welcome speech of AGMI Director Hayk Demoyan. He referred to the international recognition of the Armenian Genocide, the new levels and perspectives of academic researches. Talking about Armenian Genocide researching studies Demoyan mentioned the scientific publication in Armenia and Diaspora, stressing the unique mission of AGMI. Armenian Genocide Museum-Institute is the only institution in the world where proofs, documents and information related to the Armenian Genocide are being collected, studied, kept and exhibited.
Speaking about the consequences of the international recognition Demoyan mentioned: "Turkish denial is defeated in the field of scientific research. This means that there cannot be any shocking research, newly found document, or any scientific approach to prove that what happened was not genocide. Thirty-forty years ago we could not talk about this, but now we can definitely record that the Turkish official denial is defeated in the academic field. This does not mean that we have nothing to do; we have to formulate our future plans which should be elaborated and clarified after each recognition. Each generation has the debt to take from the previous generation and continue the work and the cooperation must be joint in Armenia and Diaspora."
The first youth forum "Armenia: Let's Create Together" launched in 11 July by the initiative of RA Ministry of Diaspora, and cooperation with AGBU, "Luys" and "Ayb" foundations. The forum aims to bring the young scientists of Armenia and Diaspora together, as well as Armenian students studying in world's leading universities in order to discuss and develop new approaches and suggest new cooperation projects in benefit of Armenia's development.
The forum was attended by 90 young participants from Germany, Spain, Greece, Poland, Czech Republic, Latvia, Sweden, Russia, Moldova, Singapore, US, Lebanon, and Armenia.