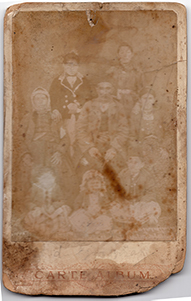 Mihran and Gohar Gyokchyan with their children (Yepime, Lusya, Aram, Tefarik and Nver), Sis, 1913
The Gyokchyan family was from the city of Sis in Cilicia. Mihran Gyokchyan (?-1915) was presumably the son of a priest; his wife was named Gohar and they had 5 children: Yepime (?-1932), Lusia (1907-1984), Aram (?-1945), Tefarik (1911-1982) and Nver (1913-1915).
After the murder of her husband, Gohar was displaced with her children (further details are not known); the children ended up in the French orphanage in Mersin, where their mother worked as a cook. While at the orphanage, following the application of eye drops into the children's eyes, Yepime went blind and Tefarik lost the vision in one eye. The youngest daughter, Nver, died in the same orphanage. In early 1920s, Gohar and her children moved from Mersin to Greece and settled in Kokkina.
Aram Gyokchyan was a member of the Hunchakian Party and at the same time a member of the editorial board of Nor Kyanq, an Armenian-language newspaper. During the German occupation of Greece, Aram was treacherously arrested as a communist sympathizer and shot dead allegedly while trying to escape.
Lusia Gyokchyan married Gevorg Harutyuni Yerjanyan (1887-1965). All that is known about the latter is that he was from Hadjin and he lost most of his family during the Armenian Genocide. In retaliation for the murder of the members of his family, Gevorg and a friend of his, killed a Turk. While living in Kokkina, and following his repatriation to Armenia, Gevorg was engaged in leather work. Four children were born from the marriage of Gevorg and Lusia in Greece: Hranush (1927-2018), Harutyun (1929-1987), Nver (1932-2002) and Maro (1945-1991). In 1946, the Yerjanyan family repatriated to Soviet Armenia; they first settled in Nubarashen and later moved to Nor-Aresh.
Tefarik married Vahan Nshani Nshanyan (1895-1942), from Izmir, Turkey. They had two sons; Step'an (1929-1993) and Nshan (1931-1994). In 1932, the Nshanyan family repatriated to Soviet Armenia, where their daughter Marits'a was born (1936-1993), who was named after her grandmother (Vahan's mother).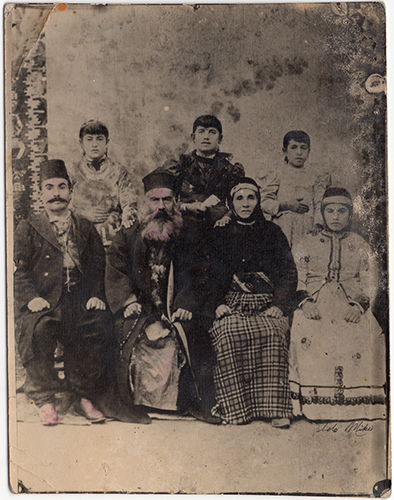 The Gyokchyan family, Sis, 1880s
Gyokchyan family archive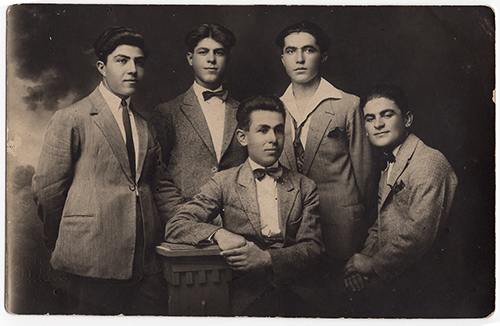 Aram Mihran Gyokchyan (sittingn on the center) with party friends, Kokkina, 1920s
Gyokchyan family archive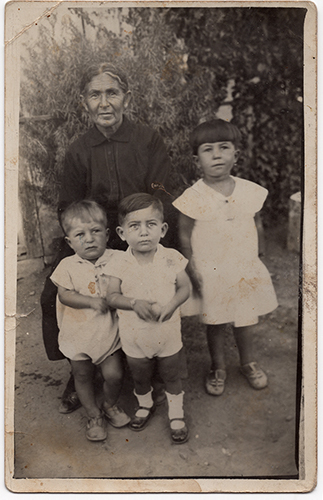 Gohar Gyokchyan with her grandchildren Hranush, Harutyun and Stepan, Kokkina, 1931
Gyokchyan family archive