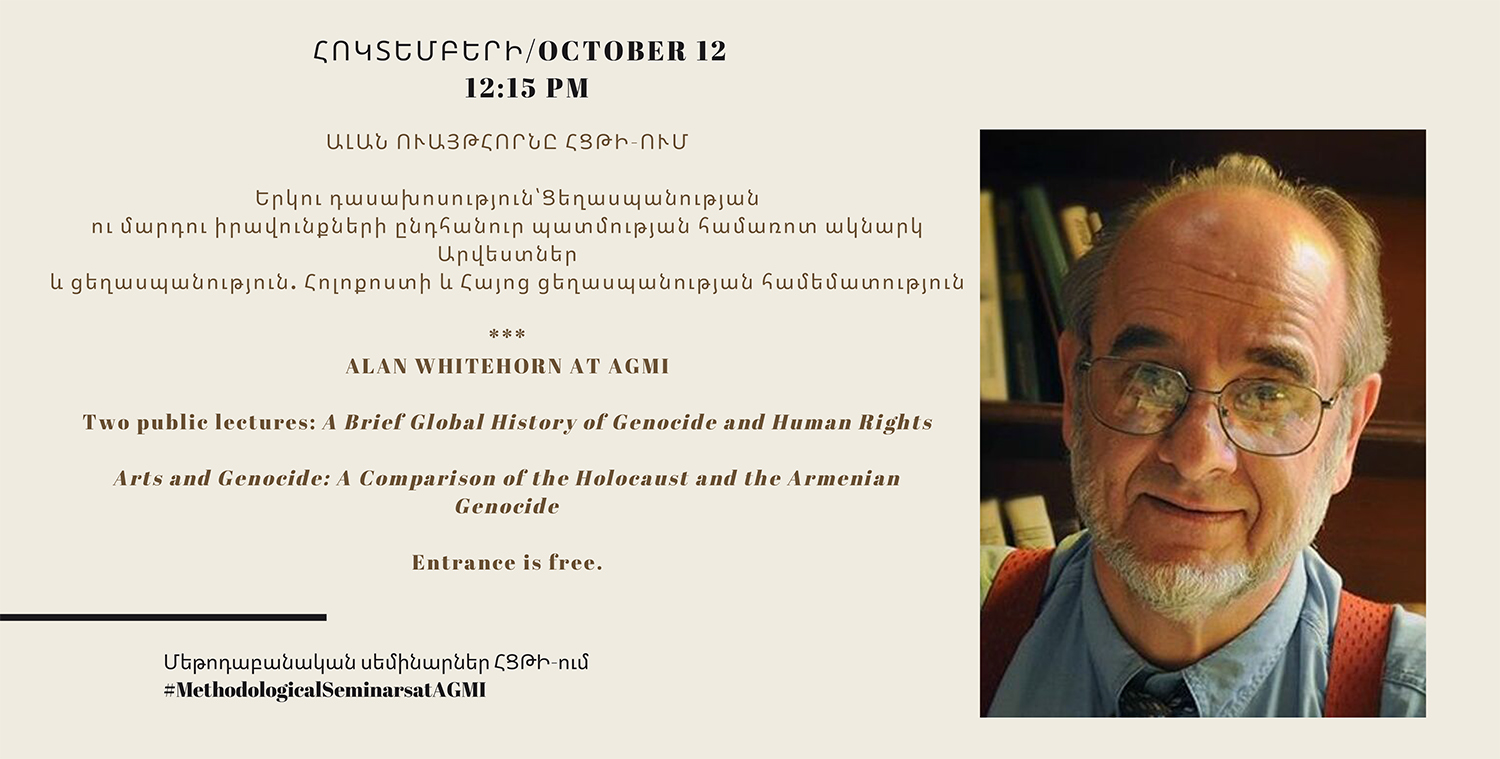 On October 12, a new methodological seminary took place at the Conference Hall of Armenian Genocide Museum-Institute Foundation.
The lecture was delivered Alan Whitehorn, Emeritus Professor of Department of Political Science at the Royal Military College of Canada.
Alan Whitehorn gave two major public lectures on genocide with the following topics: "A Brief Global History of Genocide and Human Rights", and "Arts and Genocide: A Comparison of the Holocaust and the Armenian Genocide".
About the speaker:
Alan Whitehorn
is Emeritus Professor at the Royal Military Collage of Canada. Alan Whitehorn is an emeritus professor at the Royal Military College of Canada. He received his BA (York) in Political Science & History and his MA and PhD (Carleton) in political science.
In the mid-seventies, he served as the research director on the David Lewis memoirs. From 1978 to 2011 he was a professor of political science at RMC. In the mid-1990s, he was the first holder of the JS Woodsworth Chair in Humanities at Simon Fraser University. He was also a cross-appointed professor at Queen's University.
As an academic, he writes on the topics of genocide, human rights, political parties and elections. As a poet, he explores the issue of genocide and its impact on Armenian-Canadian identity. In 2011, he was awarded the Golden Medal of the Ministry of Culture of the Republic of Armenia, and in 2015–the Golden Medal of the Writers' Union of Armenia.
Alan Whitehorn has brought significant contribution to genocide recognition and education not only in Canada, but beyond its boundaries as well.
As already informed, starting from February 2019 the Armenian Genocide Museum-Institute Foundation has launched a series of public lectures and methodological seminars.
Please be informed that the AGMI lectures can be attended by professionals of the field, students, journalists and other interested. Entrance is free.
Information on such events can be found on the following pages of the AGMI Foundation:
http://genocide-museum.am/eng/eventsAGMI.php
https://www.facebook.com/armeniangenocidemuseum/
#MethodologicalSeminarsatAGMI
#AGMIEvents
#AGMIPublicLectures
#AGMIEducationProgram