13.04.2022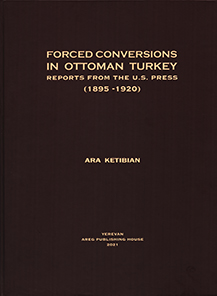 The presentation of a new book, "Forced Conversions in Ottoman Turkey: Reports from The U.S. Press (1895-1920)", by Ara Ketibian, the Australian-Armenian literary critic and co-author of the multi-volume book "The Armenian Genocide: Prelude and Aftermath. As reported in the U.S. Press" will take place on April 15 at 2:30 pm in the conference hall of the Armenian Genocide Museum-Institute.
The author of the book Ara Ketibian will be present at the presentation.
The entrance is free.
We look forward to see you.
WHAT DID THE AMERICAN PRESS WRITE ABOUT THE ARMENIAN GENOCIDE?
The Sun;
September 27, 1915
The Birmingham Age-Herald;
September 27, 1915
ATROCITIES OF THE TURKS CONFIRMED
Washington's Investigation Discloses Horrible Cruelties
NEW YORK, September 26. - A statement confirming the massacre of Armenians in Turkey was given out here today by Prof. Samuel T. Dutton, secretary of the committee on Armenian atrocities formed to investigate facts regarding the massacre and its relation to American interests, and also to ascertain whether anything can be done to relieve the situation. Other members of the committee include Charles R. Crane, Cleveland Dodge, D. Stuart Dodge, Arthur Curtiss James, John R. Mott, Rabbi Stephen S. Wise, Frank Mason North, Stanley White, James L. Barton and William Sloane.
"A subcommittee has thoroughly investigated the evidence and has just made report to the full committee in every particular the statement recently made by Viscount Bryce regarding the imprisonment, torture, murder, massacre and exile into the deserts of northern Arabia of defenseless and innocent Armenians, including decrepit men, women and children, and their forcible conversion to Islam,"- says the statement.