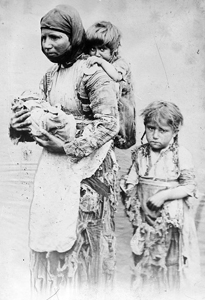 Aleppo (By Mali)-An American has duplicated Solomon's wisest judicial feat in Solomon's own country. He is а Red Cross worker, and he had to decide exactly the same kind of case that Solomon did thousands of years ago. Here is the story: During the Turkish deportations of a million Armenians into the Arabian desert, the Turks along the route used to seize and hold any of the children or women they fancied as the deported ones passed through.
Four years ago an Armenian mother with her pretty little three-year-old daughter trudged through Aleppo. A Turk rushed from his home and seized the child, while the soldiers guarding the refugees forced the mother to go on. Last month she returned from the desert searching for her baby. She found it in the Turk's home and claimed it, but the little girl, now seven, failed to recognize her mother and the Turk denied the woman's claim.
The poor woman then appealed to the Armenian Red Cross, which, with the help of the British Army, is attempting to restore all stolen and lost Armenian children. They brought the disputed girl to the Red Cross refuge and the two claimants for her appeared before the Red Cross man in charge of the orphanage.
Solomon had the same kind of thousands of years ago when two women claimed one baby. To decide it he-Solomon-ordered a soldier to cut the child in two and give each woman half. At this the real mother offered to give up the child in order to save it from death. The wise monarch immediately awarded the child to the woman who would sacrifice her claim to save the child's life.
The Red Cross officer, sitting in Solomon's place last month, didn't use such dramatic methods—but he got just as good results. He sought to have the child identify its mother in some way. Finally he induced the woman to chant some old lullabies that she had sung to her baby in its infancy. The mother began to sing and the child remembered the voice and the songs.
"Solomon has returned among us" was the verdict of the Armenian refugees about the place.
"The Red Cross Bulletin"
Washington, D.C., August18, 1919, Vol III, No. 34, p. 1