13.09.2017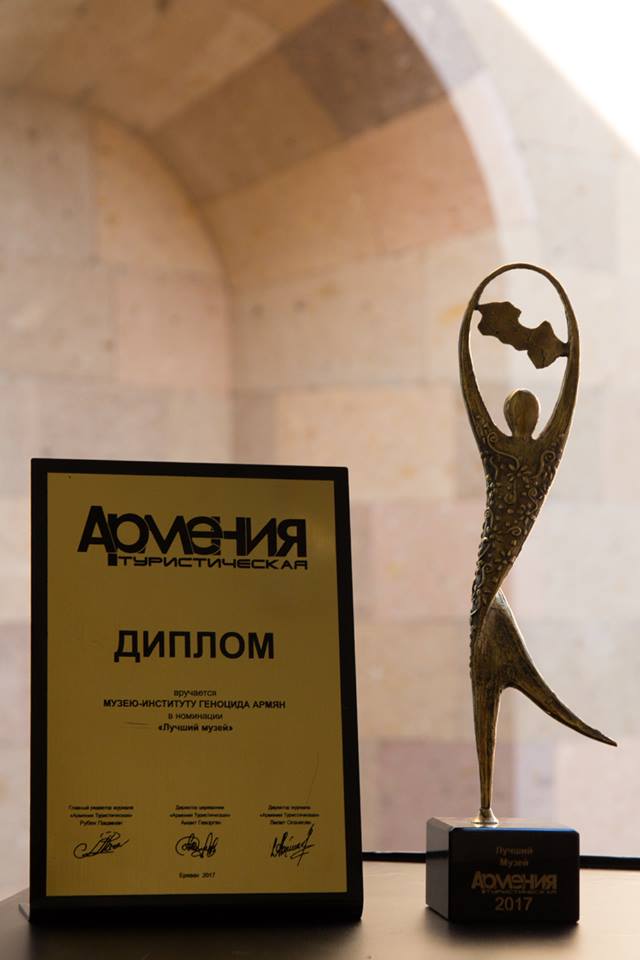 «Армения Туристическая» magazine has recognized Armenian Genocide Museum as "Museum of the Year".
On 9th of September, 12 nominations were presented at the award ceremony of «Армения Туристическая 2017» 4th Tourism Industry Awards. The winners were awarded by bronze statuettes of Margarita Matulyan. Specialists involved in the tourism sector took part in the voting.
The purpose of the event is to develop the tourism sector in Armenia, award the companies recognized as the best by voting, as well as encouraging the more successful projects in the sector.
The scientific concept of the new exhibition of Armenian Genocide Museum reopened in April 2015 has been developed and implemented by the staff of the Armenian Genocide Museum-Institute headed by Doctor of Historical Science and Secretary of commission on the coordination of events dedicated to Armenian Genocide Centennial. The interior design of the museum was developed and carried out by Lusine Matevosyan and Christine Abrahamyan.
The works to develop a new and permanent exhibition were launched in 2011. The exhibition area of the museum was expanded two and half times, totaling 2,400 square meters. For the first time in Armenia new technologies which have widely used in the world museum practice have been applied. The content, textual material and explanations of the museum exhibit are based on scientific and methodological developments in the field of genocide studies over the past years. They are presented in three languages; Armenian, English and Russian.
Thousands of new materials acquired during the last 7-8 years as a result of collective work are used in the permanent exhibition of the museum. Some of them are presented in printed form, as well as multimedia, projectors and touch screens. Original and unique photos, books, documents and more are also presented. The new museum has 12 halls instead of former three halls.