13.09.2022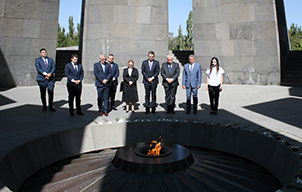 On September 13, the delegation headed by Deputy Foreign Minister of Romania Iulian Fota visited the Armenian Genocide Memorial, accompanied by RA Ambassador to Romania Sergey Minasyan and representative of the European Department of RA MFA Hayk Khemchyan.
The guests were welcomed by the AGMI Deputy Director for Museum Affairs Lusine Abrahamyan, who presented the history of the creation of the Memorial. She also related the story of the 3 khachkars placed in Tsitsernakaberd Park and dedicated to the memory of the Armenians who perished during the ethnic cleansing of the Armenian population within Azerbaijan at the end of the last century.
Mr. Iulian Fota laid a wreath at the Genocide Monument, and then the members of the Romanian delegation laid flowers at the Eternal Fire and observed a minute of silence in memory of the innocent martyrs of the Armenian Genocide.
The guests also visited the Armenian Genocide Museum accompanied by Lusine Abrahamyan and toured the temporary and permanent exhibitions there, after which Mr. Iulian Fota left a note in the Memory Book for Honorable Guests.
Expressing her thanks for the visit, AGMI Deputy Director for Museum Affairs Lusine Abrahamyan presented the guest with the two-volume book "The Armenian Genocide: Prelude and Aftermath. As reported in the U.S. Press – The New York Times," which presents articles on the Armenian massacres and the Armenian Genocide published in the American press during 1890-1922.