13.05.2022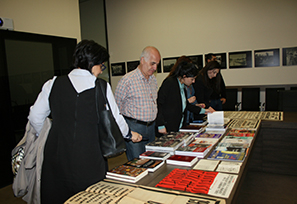 A number of important materials - brochures, leaflets and books on the history of Armenia, the Armenian Cause and the Armenian Genocide – were presented to the Armenian Genocide Museum-Institute by the Armenian community of Uruguay. This took place in the Armenian Genocide Museum's conference hall on May 12 this year. It was attended by Eduardo Rosenbrock, Ambassador of the Eastern Republic of Uruguay to the Republic of Armenia and his wife.
The donors of the materials handed over to the AGMI Foundation by our compatriots living in Uruguay were Mrs. Nairi Aharonian, the Aharonian-Paraskevaides' archive director, Professor Eduardo Alvarez Petrosian and Dr. Carlos Getsoian.
In his opening speech, AGMI Director Harutyun Marutyan highlighted Uruguay's role on behalf of the Armenian people, being the first government to recognize the Armenian Genocide. He added:
"After the recognition of the Armenian Genocide by Uruguay, a number of major countries of the world followed the big step taken by this small state by also recognising it. All these materials passed to us today by Uruguay's Armenian community of are of great significance for our museum."
The Uruguayan Ambassador, Eduardo Rosenbrock, also made a speech. He said:
"Uruguay is a small country, but has a large Armenian community which is very active and integrate well into Uruguayan society. This year is very important for Armenia and Uruguay, as May 27 marks the 30th anniversary of the establishment of diplomatic relations between the two countries. The publications, books and leaflets provided by the Armenian community of Uruguay will enrich the National Library of Armenia and the Armenian Genocide Museum."
Historian Gevorg Yazechian, who initiated the process of moving the materials published in Uruguay to Armenia, noted that there were also posters that were published in Argentina, mostly at the time of the 50th anniversary of the Armenian Genocide.
The event was also attended by Karen Mnatsaganyan, head of the Diaspora Relations Department of the ESCSM, Edig Minasyan, Dean of the YSU Faculty of History, Haykanush Ghazaryan, Deputy Director of the National Library of Armenia, Avetis Muratyan, a representative of the Office of the Commissioner for Diaspora Affairs, as well as historians and students.