15.03.08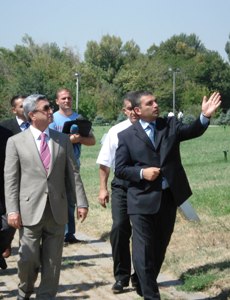 Yerevan, Armenia--On March 13th, 2008, the Information Administration and Public Relations Office of the Armenian Government decided to provide the Ministry of Agriculture with 21 million drams from its reserve fund, intended to rebuild and develop the forests of the country, particularly in Yerevan area. This plan also encapsulates the realization of restoring the vegetation surrounding the 98 hectares of land of the Tsistsernakaberd Memorial Complex.
Armenian Prime Minister, Serge Sargsyan stated, "this State money is provided in accordance with the laws directly applicable to the Republic of Armenia's (RA) Budget System". Last year, on September 8th, the Prime Minister visited the Armenian Genocide Museum & Institute (AGMI), Tsitsernakaberd Park. Prime Minister Sargsyan was reacquainted with the main issues in and around the vicinity of the Tsitsernakaberd Memorial Complex. At the time, he allocated specific directives for the protection and development of the Tsitsernakaberd Park. During this visit he also made an arrangement to preserve and transform the Park, which is the most expansive forested and grassy areas, as well as the most important ecologically dense section, in the capital city.
The AGMI is currently developing a program for its topographic goals and activities intended to be presented to the Armenian Government. Currently on the agenda is the reconstruction of dilapidated irrigation system that also needs to be thoroughly reequipped, as well as the re-establishment of the leafy-green areas, intended to increase the number of highly desirable indigenous trees while decreasing the less desirable bushes and shrubberies. The realization of all these intended plans will be completed by the centennial anniversary of the Armenian Genocide in 2015.