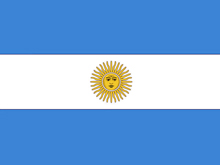 On April 1, 2011 Argentine Federal Court sustained a claim by Argentine-Armenian, Gregory Hairabedian against the Turkish state. Federal Judge Norberto Oyarbide's ruling states "The Turkish state was implementing a systematic program aimed at the extermination of the Armenian nation from 1915 to 1923". In 2000, G. Hairabedian applied the court demanding Turkey be responsible for the fate of his 50 relatives from Svaz and Kharberd who disappeared during World War I and in the proceeding years. The court has decided that Turkey should help the Armenians living in Argentina learn about their ancestors, who were killed or disappeared during the Genocide. At the same time the judge has stated that his ruling is declarative.
To reach the final verdict the court has examined the documents collected from Great Britian, Germany, Unitied States, Vatican for 11 years. The secret telegrams of the consuls and ambassadors recevied from Germany were of great importance as they revealed the Turkish policy of extermination of the Armenian nation.
On April 6, at the meeting held in the "Siranush" hall of the Armenian Apostolic Church in Buenos Aires Norberto Oyarbide read the text of the court's ruling which was greeted by community members. There were around a thousand attenders among them the ambassador of the Republic of Armenia to Argentina Vladimir Karmirshalyan, foreign diplomats, clergymen, representatives of law enforcement organizations. The support letter of the President of Argentina Cristina Fernández de Kirchner was read during the meeting whth an emphasis on the unprecedented historical event.
Concerning the court's ruling, the Press Secretary of the Ministry of Foregine Affairs of Turkey has said "We condemn and reject this unserious decision which was taken by disregarding the universal principles of law and ignoring international agreements or making unlawful interpretations on them. The above mentioned ruling did not have any serious grounds and hurts the Argentine legal system and it is also against the United Nations Convention on the Prevention and Punishment of the Crime of Genocide. Such a decision does not contribute to efforts aiming at normalization of relations between Turkey and Armenia either".
On January 11, 2007 Argentina officially recognized the Armenian Genocide. A law signed by the President of Argentina Nestor Kirshner announced April 24 a "Day of action for tolerance and respect between peoples".
Share this