14.06.2022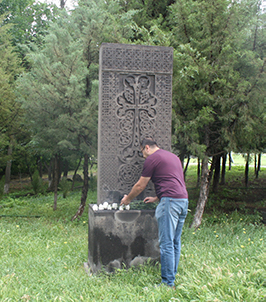 A round table meeting, dedicated to the 30th anniversary of the depopulation of Armenians from the Shahumyan region, took place in the conference hall of the Armenian Genocide Museum-Institute on June 14. A group of former Shahumyan residents, historians and AGMI staff laid flowers, first thing in the morning, at the khachkars erected on Tsitsernakaberd Hill in memory of the victims of Armenians' massacres in Sumgait, Gandzak and Baku.
This round table meeting dedicated to the 30th anniversary of the eviction of the Armenians from the Shahumyan region began with an opening speech by Edita Gzoyan, AGMI Deputy Director for Scientific Works. She stressed the importance of the organisation of such an event as a step towards the study of the repression suffered by the Armenians of Artsakh, Nakhichevan, Azerbaijan and their internationalisation, describing Azerbaijan's state anti-Armenian policy as the as a continuation of Turkish genocidal policy.
The participants were then greeted by Mariam Avagyan, Associate Professor and Coordinator of the Refugees' from the Azerbaijani SSR Assembly, who gave a speech on "The deportation of the Armenians from the Shahumyan region in Armenian-populated areas under Azerbaijani control is an Armenian Genocide episode".
Hovik Avanesov, head of the Centre for Caucasian Studies at Stepanakert's Mesrop Mashtots University, took part in the meeting online, delivering a speech titled "Azerbaijan's destruction of the cultural heritage of the Shahumyan region as an expression of the hatred of Armenians."
Reports were also presented during the event by Gohar Stepanyan Ph.D who was born in Shahumyan and is an employee of the National Academy of Sciences of the Republic of Armenia Department of Modern Ethnology as well as Narek Sharafyan, AGMI Aspirant and Gayane Hovhannisyan, AGMI Artsakh, Nakhichevan and Azerbaijan post-graduate student and researcher. They presented the historical, legal and political aspects of Azerbaijan's ongoing anti-Armenian policy and mentioned mechanisms for bringing both individual Azeris and the Azerbaijani state to justice in the international courts. Those present at the meeting then shared their memories of their native Shahumyan.