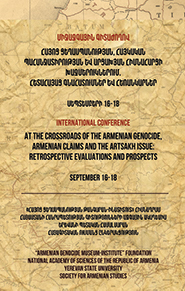 A conference organized by the Armenian Genocide Museum-Institute Foundation, the National Academy of Sciences, Yerevan State University and the Society for Armenian Studies (SAS) will take place the solemn opening of the three-day conference entitled
"At the Crossroads of the Armenian Genocide, the Armenian Claims and the Artsakh Issue: Retrospective Evaluations and Prospects"
at the conference hall of the Armenian Genocide Museum-Institute on September 16, 2010, at 9:30 am. About fifty specialists in genocide and related fields from all over the world will attend the conference.
The opening ceremony will be followed by the opening of a temporary exhibition (bilingual - Armenian and English) entitled
"Tracing Armenian Claims: Ownership Certificates Relating to Individual and Community-Owned Armenian Assets"
organized by the Armenian Genocide Museum-Institute Foundation and the National Archives of Armenia at the Armenian Genocide Museum at 10:30.
The text materials on the panels will present the material losses of Armenians during the Armenian Genocide, the laws "legalizing" the seizure of Armenian property and the decrees adopted by the Ottoman Empire, and its continuing state - the Republic of Turkey, different issues related to the Armenian claims, from its formation up to our days, including the approaches of political parties, non-governmental organizations, etc.
The exhibition includes about two dozen original property deeds, documents proving ownership rights, which will be put into circulation for the first time. The exhibition will run until April 2022.
After the opening ceremony of the exhibition, the conference will continue at the Armenian Genocide Museum-Institute, while on September 17 and 18 the conference will take place at the Circular hall of the Presidium of NAS RA and the conference hall of the Institute of History of NAS RA respectively.
We look forward to seeing you.
Download