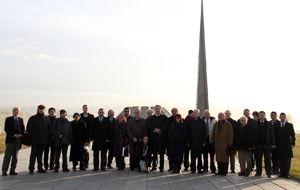 December 15, 2010 the participants of the international conference "The Crime of GENOCIDE: Prevention, Condemnation and Elimination of Consequences".
organized by the Ministry of Foreign Affairs of RA in cooperation with the Armenian Genocide Museum-Institute visited Tsitsernakaberd Memorial Complex. The guests put flowers at the eternal fire of the Armenian Genocide victims and honored their memory with a minute of silence.
Afterwards, the representatives of the international delegation visited the Armenian Genocide Museum and took a guided tour of the museum exhibition. The scholars from the different parts of the world planted a fir at the Memorial Alley of Tsitsernakaberd Complex in memory of the Armenian Genocide victims.