16.04.2010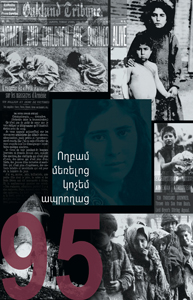 The Armenian Genocide Museum-Institute organizes several memorial events in occasion of the 95th anniversary of the Armenian Genocide.
On April 20 the Armenian Genocide Museum-Institute and the Ministry of Diaspora of the Republic of Armenia organize an International conference on the subject of the cultural genocide. The main aim of this conference is to discuss the continuing policy of the mass destruction of the Armenian Christian cultural heritage in the Ottoman Empire and in the territory of the modern Turkish Republic, as well as to represent its ideological, political and cultural motivations and its consequences for human civilization.
Historians specialized in cultural genocide from the Republic of Armenia, Great Britain, Hungary, and Netherlands will bring their participation the conference.
On 22 April, in the hall of temporary exhibitions of the AGMI an exhibition "The Armenian genocide "Front pages coverage in the foreign media" will be opened. It will include several old and modern foreign periodicals from the collection of the museum, which have front pages illustrations on the Armenian massacres.
On 23 April, in one of the halls of the permanent exhibition of the Armenian genocide museum the most valuable museums items and archive documents acquired by the AGMI within the year of 2009 and 2010 will be exhibited. The new collection includes photographs, documents and many other items concerning humanitarian movement for supporting Armenian genocide survivors. The traditional press conference of the AGMI will take place on the same day.
In 2010, AGMI will establish a Raphel Lemkin scholarship, for foreign students and post-graduate students giving them an opportunity to spend a month in the scientific institutions, libraries and archives of the Republic of Armenia and to specialize in the Armenian genocide.
On the occasion of the 95th anniversary of the Armenian genocide the AGMI is going to publish several valuable volumes in Armenian, Russian, English and French languages. Among these publications of special importance are Armenian translation of the work entitled "In the land of Blood and Tears" by famous Swiss missionary Jakob Kuncler, the second volume of the collection of the Italian Diplomatic Documents. The French edition of G. Brezol's work "The Turks have been here" dedicated to the Cilician massacres, as well as the rare book by Ferriman Duckett entitled "The Young Turks and Holocaust at Adana", which was first published in London in 1913, will be reprinted. The 16th and 17th volumes of the AGMI's periodical "History and Historiography of the Armenian Genocide" will be issued.
AGMI also plans to host 4 famous genocide scholars for public lecture series.
In September 2010 the AGMI with the Armenians' Union of Russia plans to organize a conference on Armenian genocide in September 2010, in Moscow.