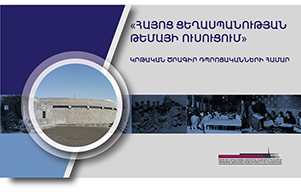 The Armenian Genocide Museum-Institute launched a free educational programme titled
"Teaching the Topic of the Armenian Genocide"
in 2019. It is intended for secondary school (grades VIII-IX) and high school (grades X, XI, XII) students.
The aim of the educational programme is to introduce the history of the Armenian Genocide to schoolchildren with a non-traditional methodology, to make them acquainted with the historical heritage of Western Armenia and the heroic experience of the Armenian people.
To date, the list of topics presented to schoolchildren by AGMI researchers has been posted on the AGMI website, using the link:
http://www.genocide-museum.am/arm/pdf/25.03.2021.pdf)
. Topics include the realisation of Armenian Genocide verdicts, its process and individual episodes, including the role of religion, self-defence battles, crime recognition and legal condemnation as well as Turkish government denial. This is a total of 15 topics which may be chosen by the schoolteacher.
During March-May 2021, the AGMI served 16 schools in Yerevan and the regions, within the framework of the educational programme, as well as specialized schools, colleges and 561 students in the humanities and sciences streams. The most frequently chosen topic (13 times) during this quarter has been "The Armenian 'Nemesis' in Action", which has been presented by Gohar Khanumyan, head of the AGMI Museum Collections Department. Within the framework of the
"Teaching the Topic of the Armenian Genocide"
educational programme, attempts were made to promote students' critical thinking: the lectures were completed with an active discussion, in which the students raised their concerns.
It should be noted that most of the history teachers in the above-mentioned schools have participated in the annual Teaching Armenian Genocide Summer School organized by the AGMI since 2019. Positive feedback from teachers, constant contact with the AGMI Department of Educational Programmes, an increase in museum attendance and participation in lectures on selected topics have demonstrated the effectiveness of AGMI educational programmes. Teachers' suggestions and discussions continue to contribute to the ongoing improvement of the contents of the courses.