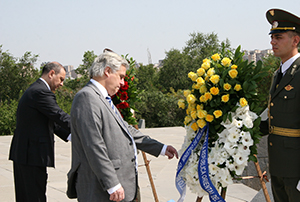 The delegation, led by Uruguay's Foreign Minister Francisco Bustillo, who was in Armenia on an official visit, visited the Armenian Genocide memorial on August 16 accompanied by Armen Grigoryan, acting Minister of Foreign Affairs of the Republic of Armenia.
The delegation was welcomed by the Director of the Armenian Genocide Museum-Institute Mr. Harutyun Marutyan, who recounted the history of the memorial complex to the guests. Mr. Marutyan also told them the history of the 3 khachkars placed in the grounds of Tsitsernakaberd, dedicated to the memory of the Armenians who died during the ethnic cleansing of the Armenian population in Azerbaijan at the end of the last century.
Francisco Bustillo laid a wreath at the Genocide monument, after which the members of the accompanying delegation placed flowers at the Eternal Flame, honouring the memory of the innocent martyrs with a minute's silence. Mr. Bustillo also visited the Genocide Museum and toured with the temporary and permanent exhibitions there, after which he left a note in the visitors' book signed by honoured guests. He also planted a fir tree in the memorial park at the end of his visit.
Expressing his thanks to Mr. Bustillo for the interest shown in his visit, Mr. Marutyan presented the honorable guests with copies of the latest AGMI publications.