17.01.2009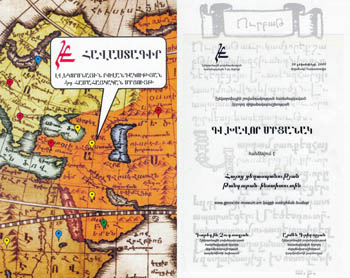 Yerevan, Armenia--The Third annual Pan-Armenian website competition took place in Yerevan from November 15th- December 25th, 2008. The current competition was devoted to the 500th anniversary of Armenian printing. Exactly 377 entries were submitted for competition.
The official website of the Armenian Genocide Museum & Institute (AGMI) www.genocide-museum.am received the Grand Prix. AGMI also was nominated as a winner in the "E-Science" category. This achievement grants the AGMI website to take part in the World competition of websites.
The main goals of the competition were to:
- reveal the most prominent Armenian websites of 2007-2008
- establish and encourage excellence in quality in website production and promotion
- create a base for Armenian producers to present their products and achievements within an international arena
The competition nominated the best 16 websites with absolute indicators and highest scores, as well as the first two works were recognized as the best in their nominations and became the winners.
The competition was held under the high patronage of the Armenian Prime Minister. Organizers of the competition included: Information Technology Foundation of Armenia, Armenian ELBA Association. The main sponsors were The Ministry of Economic of Armenia, Pan-Armenian Fund of Armenia, VIVA Cell MTS Company, Icon Communications, Microsoft AM Zigzag electronics, IPIJI LABS AM TUMO and Arminco, the Bi Line Company and Council assisting the development of the TT next to Armenian government.