17.04.2009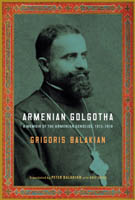 The other day was republished "Armenian Golgotha" by Grigoris Balakian, translated by Peter Balakian with Aris Sevag. "Armenian Golgotha" is the most dramatic and comprehensive eyewitness account of the first genocide of XX century.
The book was originally published in Armenian in two volumes as Armenian Golgotha: Episodes from the Armenian Martyrology from Berlin to Zor, 1914-1920 (Vienna: Mekhitarist Press, 1922) and Armenian Golgotha, Volume 2: Episodes from the Armenian Martyrology from Berlin to Der Zor (Paris: Imprimerie Araxes, 1959.)
On April 24, 1915, the priest Grigoris Balakian was arrested along with some 250 other intellectuals and leaders of Constantinople's Armenian community. Is was the beginning of the Ottoman Turkish government's systematic attempt to eliminate the Armenian people from Turkey; it was a campaign the continued through World War I and the fall of the Ottoman Empire, by which time more than a million Armenians had been annihilated and expunged from their historic homeland. For Grigoris Balakian, himself condemned, it was also the beginning of a four-year ordeal during which he would bear witness to a seemingly endless caravan of blood.
Balakian sees his countrymen sent in carts, on donkeys, or on foot to face certain death in the desert of northern Syria. Many would not even survive the journey, suffering starvation, disease, mutilation, and rape, among other tortures, before being slaughtered en route. In these pages, he brings to life the words and deeds of survivors, foreign witnesses, and Turkish officials involved in the massacre process, and also of those few brave, righteous Turks who, with some of their German allies working for the Baghdad Railway, resisted orders calling for the death of the Armenians. Miraculously, Balakian manages to escape, and his flight-through forest and Over Mountain, in disguise as a railroad worker and then as a German soldier-is a suspenseful, harrowing odyssey that makes possible his singular testimony.
Full of shrewd insights into the political, historical, and cultural context of the Armenian genocide-the template for the subsequent mass killings that have cast a shadow across the twentieth century and beyond-this memoir is destined to become a classic of survivor literature. Armenian Golgotha is sure to deepen our understanding of a catastrophic crime that the Turkish government, the Ottomans' successor, denies to this day.
GRIGORIS BALAKIAN,
born in 1876, was one of the leading Armenian intellectuals of his generation. Educated in Germany and in the Ottoman Empire, he was ordained as a celibate priest in 1901 and served the Armenian Apostolic Church as an emissary to Europe, Russia in particular. He wrote several books, some of which were confiscated by the Turkish government in 1915 or subsequently lost. He later became bishop of the Armenian Apostolic Church in southern France. He died in Marseilles in 1934.
This annotation was taken from the book "Armenian Golgotha" by Grigoris Balakian.