17.04.2010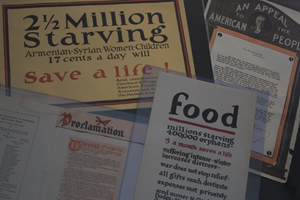 In 2009 the Armenian Genocide Museum-Institute obtained newly found unique materials concerning the humanitarian activities of American Near East Relief organization.
In early September, 1915 the American Ambassador in the Ottoman Empire Henry Morgenthau urged US State Department the formation of a committee to raise funds and provide ways and means for saving the Armenians.
Since October 1915 Armenian Relief Committee started the organization of fundraising. In November, 1915, two more committees operating in the Near East united with Armenian Relief Committee and formed the American Committee for Armenian and Syrian Relief, which later was incorporated as the Near East Relief by the Charter of the U.S. Congress, on August 6, 1919.
Founded as a temporary committee, Near East Relief became a large organization which initially was aimed at raising $100.000, but within 15 years from its formation it raised $110 million for refugees and orphans in the Near East. The much wondered humanitarian aid was contributed by American missionaries and relief workers in many locations of Caucasus, the Middle East and Balkans.
One of these rare materials obtained by AGMI in 2009 is the Proclamation of the American president Woodrow Wilson based on the resolution of the US Congress of July 10, 1916. The Congress suggested President Wilson to designate a day on which the citizens of the USA might make contributions for the aid of the stricken Syrian and Armenian peoples. According to this proclamation Saturday, October 21, and Sunday, October 22, 1916, were proclaimed as fundraising days.
Another document represents the appeal of President Wilson to the American people on October 29, 1917. The president calls upon the people of the United States to continue contributions for the aid of the suffering peoples. The appeal shows that according to the reports of the American representatives there are more than 400.000 orphans in the Near East and as the situation is distressing the need of relief is urgent again.
Other three documents are posters designed for collection of clothes and funds for humanitarian aid in the Near East.
The efforts of the Near East Relief and humanitarian aid of American government and American people saved tens of thousands of Armenians and thousands of other nationalities of the Near East from perishing.