FORMER PRESIDENT OF THE FEDERAL REPUBLIC OF GERMANY JOACHIM GAUCK VISITED THE ARMENIAN GENOCIDE MEMORIAL COMPLEXv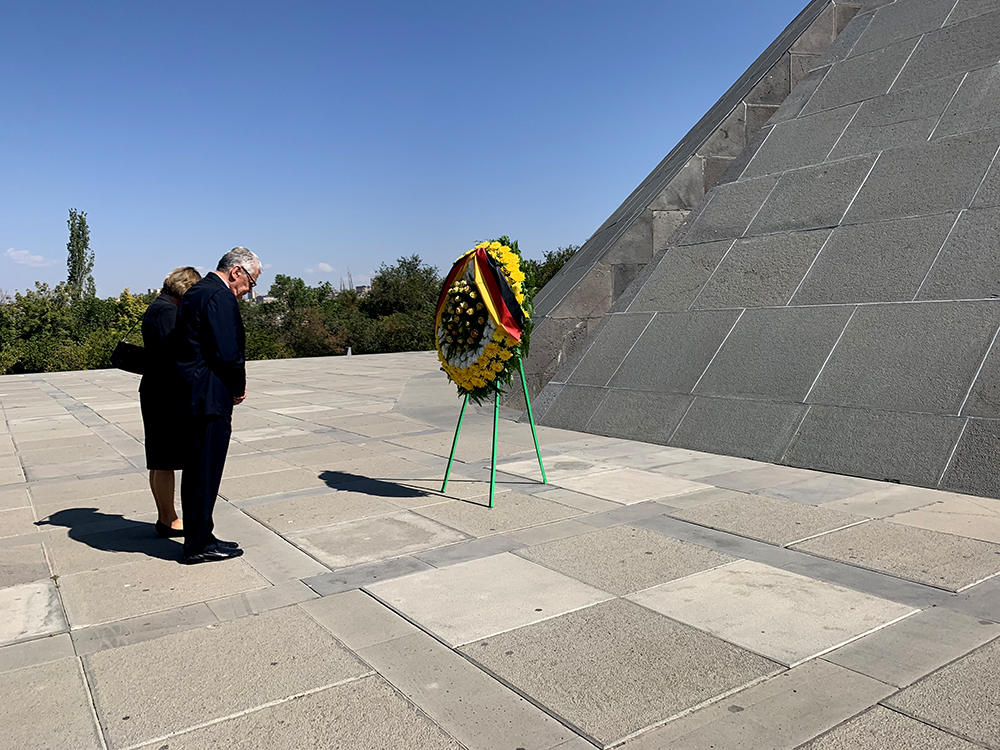 Within the framework of his visit to Armenia at an invitation of His Holiness Karekin II Supreme Patriarch and Catholicos of All Armenians the former President of the Federal Republic of Germany Joachim Gauck and his wife visited the Armenian Genocide Memorial Complex. The former President was accompanied by Michael Banzhaf, the newly appointed Ambassador Extraordinary and Plenipotentiary of the Federal Republic of Germany to the Republic of Armenia, and representatives of the Mother See of Holy Etchmiadzin.
The AGMI German-speaking guide Hasmik Martirosyan presented to the guests the history of the Armenian Genocide through the museum exhibits and documents.
At the end of the visit president Joachim Gauck left a note in the Memory Book of honorable guests. AGMI Director Harutyun Marutyan handed the guests "Aurora Mardiganian" medal, and gifted the volume authored by him "Illustration of Armenian identity: Genocide Memory and Karabakh Movement", and another one "Armenian Genocide: Front Page Coverage in the World Press" by Hayk Demoyan, and the catalogue of the recently opened temporary exhibition "Far from the Fatherland, in the Fatherland: Fates of Armenian Soldiers in World War I".
The delegation also visited the Genocide Monument, where the former President laid a wreath in memory of the innocent martyrs, after which Joachim Gauck, Bishop Anushavan Jamkochyan and Primate of Armenian Diocese of Germany Bishop Serovbe Isakhanyan performed a Religious Order Ceremony - psalms were read and ecumenical prayers were made in memory of the innocent martyrs.
Accompanied by director Marutyan, the guests also toured in the Memorial area and were introduced to its significance and importance.