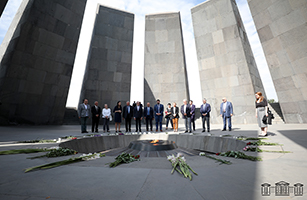 The delegation of the French Republic that arrived in Armenia on a working visit, visited the Armenian Genocide Memorial on September 17. The delegation was accompanied by the Chairman of the RA National Assembly Standing Committee on European Integration Arman Yeghoyan.
The guests were welcomed by Lusine Abrahamyan, Deputy Director for Museum Affairs of the Armenian Genocide Museum-Institute. The AGMI tour-guide Hasmik Martirosyan presented the history of the memorial to the honorable guests.
French guests put flowers at the Eternal Fire and honored the memory of the innocent martyrs with a minute of silence. The delegation also visited the Armenian Genocide Museum, and got acquainted with the permanent and temporary exhibitions, also making a note in the Memory Book of Honorary Guests.
"'We must save the Armenians,' Jean Jaurès (1896), 'We must save the people of Artsakh,'"
September 17, 2021, wrote François Rochebloine, a member of the French Parliament and rapporteur on the Armenian Genocide recognition law.
"I had the same sorrow as I had in Yad Vashem, Jerusalem. Unfortunately, the two genocides do not have the same recognition in the world. This museum should be exhibited in all countries of the world,"
wrote the mayor of Bouc-Bel-Air Richard Mallier.
At the end of the visit the guests had a tour in the Memory Alley.